Big Freeze Brings Nation to Standstill
Adjust font size:
The country was blanketed by heavy snow and pummeled by severe weather Thursday during the third consecutive day of harsh weather.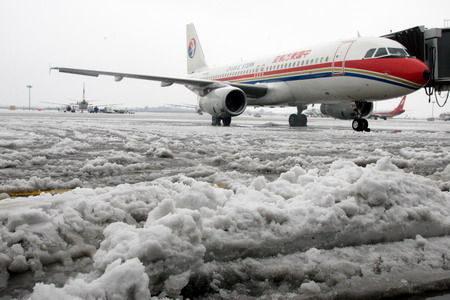 Planes are seen on the parking apron at Xi'an Xianyang International Airport in Xi'an, capital of northwest Shaanxi Province, November 11, 2009. More than 80 flights were delayed and over 10,000 passengers were stranded at the airport, thanks to a heavy snowfall which hit Xi'an on November 11. [Xinhua] 
The whiteout left several people dead and caused hundreds of injuries. It also froze traffic in many cities and grounded hundreds of flights.
Tens of thousands of people and vehicles were stuck along 21 expressways in seven provinces. Power supplies were lost in some parts of the country, the China Highway Information Service said on its website Thursday.
The national meteorological watchdog issued an orange alert -- the second-highest level -- for snowstorms on Wednesday.
Hebei provincial meteorological bureau issued its top alert three times and officials in Shanxi province declared an emergency the same day. Some places in these two provinces experienced the most severe snowfall in history.
The National Disaster Reduction Committee and the Ministry of Civil Affairs jointly declared a third-level emergency plan early yesterday aimed at fighting the snowstorm in the north of the country.
Premier Wen Jiabao visited Shijiazhuang, the capital city of worst-hit Hebei Province, yesterday afternoon. He comforted passengers stranded at railway stations and drivers trapped on the highways.
The heavy snow was the reason for at least six deaths and caused upheaval to around 630,000 people in Hebei. The direct economic loss there has reached 400 million yuan (US$59 million), according to the provincial civil affairs department.
Of the six fatalities in Hebei, three children died and 28 were injured when a primary school canteen collapsed under the weight of the snow on Wednesday.
The accident happened at Longfeng private primary school, Mingguan Town, Yongnian County, at about 6:00 PM, a county government spokesman said.
Another canteen collapsed in neighboring Henan Province, killing one student and injuring seven yesterday morning.
In Hebei's provincial capital Shijiazhuang, one person was killed and 25 were injured. Sixty-eight vegetable greenhouses collapsed due to the snow, a provincial civil affairs department official said yesterday.
The harsh weather reminded people of last year's winter havoc, but forecasters said the possibility of such serious ice storms were slim and noted that the snow had stopped falling in most areas.
"From November 14 to 17, rain will hit South China, while lighter snow will sweep the north, relieving the drought conditions," said Yang Guimin, chief forecaster from the China Meteorological Administration.
"Freezing cold and dense fog following the snow will bring trouble for commuters," he added.
Shijiazhuang recorded 75 mm of snow.
The heaviest snowfall since 1951 hit Taiyuan, capital of Shanxi, where 36.7 mm fell in 24 hours. The deluge left more than 6,000 people trapped on expressways and led to the closure of many roads, China National Radio reported yesterday.
About three-quarters of the province, 119,200 sq km, was covered in snow, according to statistics from the National Satellite Meteorological Center.
Thousands of passengers were stranded at Beijing's two airports and its five railway stations.
Beijing Capital International Airport cancelled 59 flights and delayed hundreds of others.
Rush-hour traffic yesterday was heavily congested after several pileups and many expressways between the capital and Hebei Province were closed.
Beijing's transport authority also canceled 44 bus routes from downtown to nearby destinations.
(China Daily November 13, 2009)