Man Trains 60 Cats to Guard Granary
Adjust font size: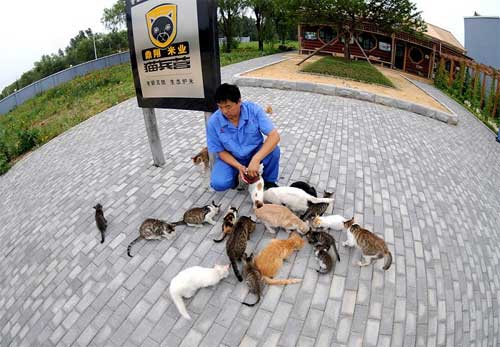 Guard cats gather around Yin Chunzhu, a trainer at a storage and transportation company in Dalian in this file photo. [Peninsula Morning Post] 
A man has trained 60 cats to guard a grain depot from rats, the Dalian-based Peninsula Morning Post reported on Monday.
Yin Chunzhu, an employee at a storage and transportation company in Dalian, northeast China's Liaoning Province has been dubbed "Cat commander" for his army of feline guards.
The barn, stocked with organic crops has been harassed by rampant rats for many years, according to staffers. Due to the possible contamination from rat poison, Yin has been training the cats since mid-October to protect against rodents.
The cats have been trained with different skills such as detecting, lurking and patrolling for rats.
"It is obvious that our grain damage has lessened in the recent months", said a staff member at the company. And the expense of raising the cats is only half the cost of losing the grain, she added.