Poor Get 5 Bln Yuan Boost in Beijing
Adjust font size: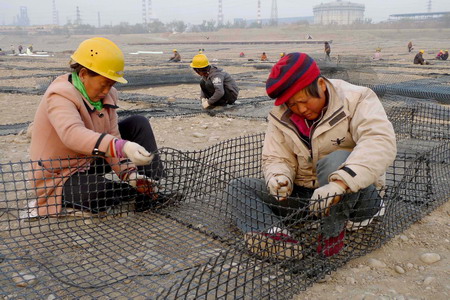 Migrant workers make steel wire frames at a construction site in the capital. [China Daily]

Minimum wage hike and social security changes are welcomed The lowest salary in Beijing will be raised by almost 20 percent - from the current 960 yuan (US$142.75) per month to 1,160 yuan - the biggest increase ever, the Beijing Municipal Bureau of Human Resources and Social Security announced on Monday.
The change means that, starting from Jan 1, Beijing will join "1,000-yuan club" members Shanghai, Zhejiang and Guangdong. The club comprises jurisdictions with a minimum wage that is more than 1,000 yuan.
"Because the cost of life's necessities have risen a lot in the past year, the lowest income level has to rise accordingly in the capital," said Song Fengjing, vice-director of the bureau.
The change is good news for many people who are living on low incomes.
One such person is Wang Jingpeng, a 48-year-old resident of the Xiaoguan community in Chaoyang district who was laid off in 2006 and has remained unemployed ever since due to poor health. Because of the rise in the minimum wage, he will now get a higher low-income subsidy.
"I've been expecting the increase for a long time because everything is getting more expensive here and I've had to tighten my belt these days," Wang said.
For those not working full time, the hourly payment will rise to 13 yuan from the previous 11 yuan, according to the new policy.
During public holidays, part-time workers will earn 30 yuan an hour, 4.3 yuan more than before in Beijing.
"I'm so glad to hear this. If my boss had not already promised to raise my wages to 20 yuan per hour from next month, I think I would have gone to a smaller city," said Lin Liyan, 22, a restaurant delivery driver from Sichuan province.
"The cost of living in Beijing is simply too high."
Meanwhile, the first day of 2011 will see the introduction of five additional social security policies, or "life-guarantee lines". According to the new policies, the basic monthly pension for enterprise retirees, disability allowance and unemployment insurance will increase by 210 yuan, 303 yuan, and 120 yuan respectively.
At the same time, next year will see the capital's first rise in its individual basic pension and welfare pension by 30 yuan per month, reaching 310 yuan and 230 yuan respectively.
The initiatives will benefit almost 3 million people in Beijing and cost 5.15 billion yuan.
Wang Mingshan, head of Xicheng district bureau of human resources and social security, said that while the adjustment in the structure of social security coverage next year is largely unchanged, the policies are further tilting to help people on low incomes and the elderly.
"We adjust social security policies on July 1 every year," Wang said. "But this year they are coming much earlier, at the very start of the new year. Because food prices have risen a lot, the government hopes the new policies will benefit the people who need help as soon as possible."
(China Daily December 29, 2010)