Shandong Focuses on a Clean Energy Future
Adjust font size: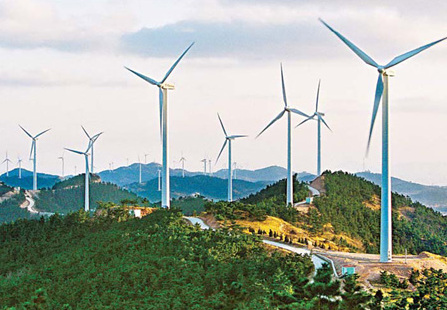 Wind farm built by Huaneng Group in Changdao, Shandong Province. [China Daily] 
Shandong's new energy industry is expected to grow at an average annual rate of 20 percent to reach 100 billion yuan in added value by 2015, according to the province's Development and Reform Commission.
The industry covers solar, geothermal, wind, ocean, biomass and nuclear energy.
Shandong hopes that installed capacity of new energy will reach 10 million kilowatts, accounting for 10 percent of the province's total power capacity, by 2015. The figure is projected to hit 25 million kilowatts in 2020, contributing 20 percent of the province's total power capacity, according to the outline released by the provincial government.
Local authorities have formulated a series of policies to realize these goals.
Among them is the Opinions on Promoting New Energy, Energy Saving and Environmental Protection Industry in Shandong, released in August 2009, which calls for focus on developing new energy industries.
A further seven preferential policies covering funding, land use and tax are also carried planned to boost new-energy development.
The provincial government has earmarked 1.2 billion yuan for research and development into new energy in the next three years.
To increase solar energy use, the authorities have requested that buildings less than 12 floors should be installed with solar-powered facilities, including water heaters, energy collectors, solar energy-driven generators and supporting devices such as silicon and amorphous silicon solar modules and photovoltaic power control systems.
Several wind power farms will be built in Yantai, Dongying and Weifang. As well as farms, wind power equipment manufacturing is another priority on the agenda, with an aim to make the city one of the country's top wind power equipment manufacturers.
With respect to harnessing the ocean's power, sea water-powered heat pump technology will be developed. Efforts will also be made to find ways to protect the sea, such as how to deal with too much algae.
In line with developing a new energy-based, low carbon economy, Shandong is encouraging enterprises to build energy efficient automobiles. The province aims to have an annual production capacity of 80,000 new energy-powered automobiles by 2012, accounting for 6 percent of the province's total automobiles.
Rural areas, as well as urban areas, will be targeted in the clean energy drive.
(China Daily April 27, 2010)