China Furthers Low Carbon Efforts After Copenhagen
Adjust font size: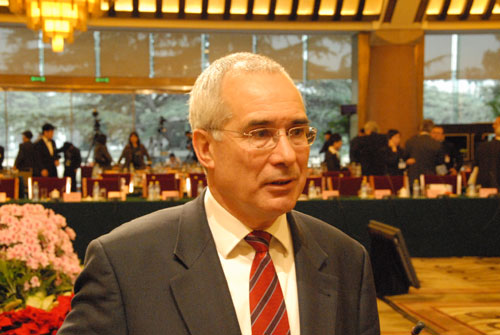 Nicholas Stern, professor of London School of Economics and Political Science receives Xinhuanet interview at China Development Forum 2010 in Beijing, capital of China, March 21, 2010. [Xinhua]
For a great part, the Copenhagen summit was a very important platform for the world to go forward where China played a big role in putting it together, according to Nicholars Stern, world's top climate economist.
Speaking to Xinhuanet on the sideline of China development forum 2010 Sunday, Stern, however, also expressed his disappointment with the summit for not achieving significant agreement among the major world nations.
Stern believed China will make a big difference for its pledge to cut emissions and develop green energy in the coming years.
This will make the others see what China is doing for world environment and sustainable development, he added, meaning China is actively reacting to the worsening climate changes. But the China story is not well understood by the world, he noticed, "not enough at the moment."
On the exploration of the new energy market, Stern said, China has a big opportunity. "Low carbon emission growth is a growth story in the future," he added, "and China is recognizing that."
He went on to say that since China's further growth through exports would be limited by the growth of rich countries' markets, the low carbon products, low carbon engineering and low carbon techniques will have a big market that China can grasp.
Nicholas Stern is a professor of London School of Economics and Political Science. He is also a former World Bank economist, former head of the Government Economic Service, who led the UK's landmark "Stern Review" on the Economics of Climate Change.
(Xinhua News Agency March 22, 2010)