China Begins Spring Festival Travel Rush
Adjust font size: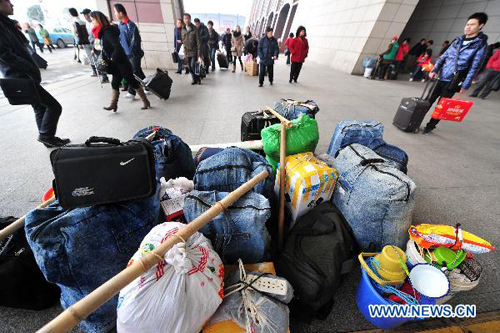 Passengers walk past a pile of luggages on the square of Wuchang Railway Station in Wuchang, central China's Hubei Province, Jan. 19, 2011, the first day of the 40-day Spring Festival travel rush. China's Ministry of Transport (MOT) estimated that 2.85 billion passenger trips would be made during the period, 11.6 percent more than last year. [Xinhua]
China's annual Spring Festival travel rush began Wednesday in freezing weather, with some 700 million people, or nearly half the nation's population, expected to travel within the country during the 40-day-long travel period.
China's Ministry of Transport (MOT) estimates that 2.85 billion passenger trips will be made during the period, 11.6 percent more than last year.
The Spring Festival, or Chinese Lunar New year, is the most important traditional festival of family reunions. This year, it falls on Feb. 3.
As usual, the peak travel season is pressuring China's transportation network, with passenger trips by railway up about 12.5 percent and those by plane up about 10.8 percent year on year, according to the country's transport authorities.
But freezing weather in south China is likely to disrupt travel and transportation, with temperatures down to their lowest since 1961 in the provinces of Guizhou, Hunan and Hubei.
A MOT report at 9 a.m. Wednesday said an expressway, seven national highways, and 36 provincial highways have been closed due to heavy snow and icy rain in the southwest municipality of Chongqing and the southern provinces of Guizhou, Sichuan, Yunnan, Anhui, Hunan and Hubei.
Railway traffic has increased in parts of Guizhou and Hunan provinces because heavy snow has delayed other modes of transportation, the Ministry of Railways said in another report.
But so far railway traffic has been orderly, as local transportation authorities prepared for possible inclement weather conditions, after freezing weather in the winter of 2008 caused traffic chaos and prevented many people from going home, the report said.
The National Meteorological Center (NMC) forecasts snow storms to hit regions of Guizhou, Yunnan and Hunan this week.
Besides journeys home, many trips will be made to tourist destinations, such as Sanya in Hainan Province, said ministry spokesman He Jianzhong.
On Tuesday alone, a total of 4.72 million passenger trips were made on the nation's railway lines. Railway authorities have arranged an extra 132 trains to cope with the increase in passengers, according to MOR figures.
The MOT had earlier said it will run an extra 293 pairs of trains per day during the rush period, with the average daily train departures totaling 4,561. The trains will carry 6.2 million passengers per day, up 12.5 percent year on year.
At Beijing West Railway Station, some 100 temporary ticket-selling booths have been set up to make buying tickets easier, allowing 5,000 people to simultaneously queue for tickets.
Song Jianguo, an official with the station, said arrivals and departures at the station will reach 310,000 on Wednesday. Some 160,000 people will leave Beijing at the train station, up 20 percent from the same period during last year's Spring Festival travel peak, he added.
Further, the Guangzhou Railway Group forecast some 700,000 people departed Guangzhou, one of China's business hubs, on the first day of the travel peak, up 25 percent from the same period last year.
The group added an extra 38 temporary trains to handle the passenger increase on Wednesday. Officials said more trains would be put into operation to meet the rising demand.
China has been working to cope with the flood of travelers by building more railways and cracking down on train-ticket scalping, as it is often difficult to obtain train tickets during peak travel seasons.
Wang Zhiguo, vice minister of railways, admitted China's railway transportation was still "far from" meeting the social demand, despite that China put into service 480 trains on its newly constructed high-speed railways and added some 8,540 ordinary trains to its national network in the past year.
The number of Chinese passengers has been rising as more migrant workers are traveling. During the 2001 Spring Festival period, some 1.66 billion passenger journeys were made. In the 2005 period, there were 1.9 billion, while in the 2010 period there were 2.2 billion journeys.
Wang said the solution to ticket shortages is building more railways.
As of the end of 2010, China had 91,000 kilometers of railways. This figure will increase to 120,000 kilometers by 2015, with 16,000 kilometers of it high-speed railways by 2015, according to the country's railway development plan.