2 New Children's Hospitals Proposed
Adjust font size: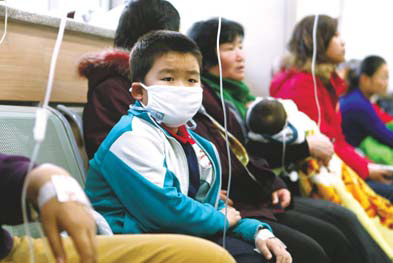 A child receives a drip at Beijing Children's Hospital. [China Daily] 
The city will build one or two children's hospitals within the next five years, according to the draft plan of Beijing's 12th Five-Year Plan (2011-2015) released on Sunday morning.
Beijing currently has only two level-three children's hospitals - Beijing Children's Hospital in Xicheng district and Capital Institute of Pediatrics in Chaoyang district.
Statistics from the Beijing Children's Hospital show that it receives about 7,000 to 8,000 patients every day and the number reaches around 8,500 in summer. The Capital Institute of Pediatrics treats about 6,000 patients each day.
There are about 100 hospitals in Beijing that have pediatric departments and nearly one-third are in level-three hospitals.
However, the Beijing Children's Hospital and Capital Institute of Pediatrics treated more than 90 percent of child patients. Figures released by the Beijing Health Bureau show that only five hospital pediatrics departments received more than 500 patients on Jan 14 and the two children's hospitals received more than 11,000 patients combined.
Lu Jiehua, a professor in the sociology department of Peking University, told the Mirror Evening News that most parents in rural Beijing prefer to choose level-three hospitals in downtown areas rather than a level-two nearby.
"Because the skill of the doctors is not as good as those in famous hospitals. Nobody would like to put his or her child at risk," he said.
Wang Tianyou, a doctor from Beijing Youyi Hospital who is also a deputy of the National People's Congress, said that the low number of patients at the pediatrics departments in other hospitals could mean their disappearance. He said it's a vicious circle.
"Doctors receive fewer patients, which means they have less chance to gain more experience in treating child patients. Parents then have less trust in their skills," he said.
Lu said that the two famous children's hospitals located in the downtown area add to the city's traffic woes because of the large number of visitors. He said the location of new children's hospitals might be in areas such as Tongzhou district and Huilongguan in Changping district.
The Beijing Children's Hospital has launched a corporate plan with hospitals in rural areas to give medical assistance.
Zhou Hong, a doctor from Beijing Children's Hospital, said that even with two new children's hospitals, the city's medical staff could only meet half of the demand.
Beijing is estimated to have 3 million children aged under 16.
(China Daily January 17, 2011)