Official Suspended in Lead Scandal
Adjust font size: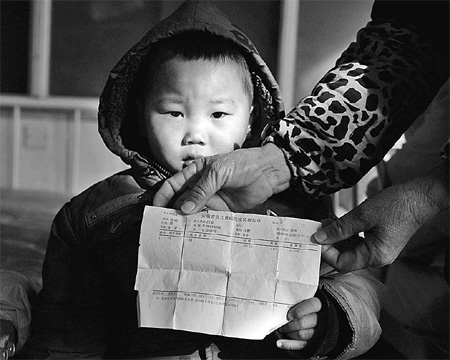 A boy from Gaohe town, Anqing city of Anhui province, holds his test report after medical screening at Anhui Provincial Children's Hospital in provincial capital Hefei. Over 200 children in Gaohe were found to have excessive lead in their blood. [China Daily] 
An environmental protection official in east China's Anhui Province has been suspended after the number of children found to have excessive lead in their blood rose to 200.
The high lead levels were caused by a battery manufacturing plant in Gaohe town, Huaining county, Anqing city.
Zhao Yiping, director of the environmental protection bureau of Huaining, was removed from his post after last week's tests confirmed excessive lead emissions from Borui Battery Co Ltd, according to a news conference held by the provincial government on Saturday.
Tests showed that Borui Battery, located just across the road from a densely populated residential community, had polluted the nearby soil, and had caused the lead poisoning in the children. The company failed to handle the pollution problem in its production process, and its plant and facilities didn't meet the official environmental requirement, a government spokesman said.
The provincial government confirmed that health screening on Jan 5 revealed that of the 307 children from Gaohe tested, 228 had elevated lead levels.
Experts said excessive amounts of lead in the blood harm the body's digestive, nervous, and reproductive systems and cause stomachaches, anemia and convulsions.
Twenty-three of the children were in serious condition and sent to hospital for special treatment, but their lead levels have now returned to normal.
The company has ceased production and is currently under investigation.
In August 2010, the battery company was asked to close on account of its failure to comply with the necessary environmental checks. But the company later resumed production without notifying the government.
According to the country's environmental protection regulations, a battery plant should not be built within a 500-meter radius of local residential communities.
The environmental protection department of Anhui is carrying out a full-scale examination of all battery manufacturers in the province to determine what steps have been taken by the plants to fulfill their environmental protection requirements.
This is not the first time that battery plants have been blamed for poisoning children.
In June and July 2010, four children living near a battery plant in Xinyi city, east China's Jiangsu Province, were found to have excessive lead in their blood. In December 2009, 49 children in Qingyuan city, south China's Guangdong Province, were also found to be suffering from lead poisoning caused by a nearby battery plant.
Hu Jing, vice-director of the Environment and Resource Law Institute at China University of Political Science and Law, said it should be made easier for people to take health-related lawsuits to court.
"Lowering the difficulty of submitting health-related lawsuits is the key. The courts should accept lawsuits involving personal injuries caused by environmental pollution," Hu was quoted by Nanfang Daily as saying.
At present, lawsuits over pollution-caused personal injuries are often set aside.
Hu said the Supreme People's Court should establish a reasonable prosecution mechanism.
(China Daily January 10, 2011)