Polluting Battery Plant Closed
Adjust font size: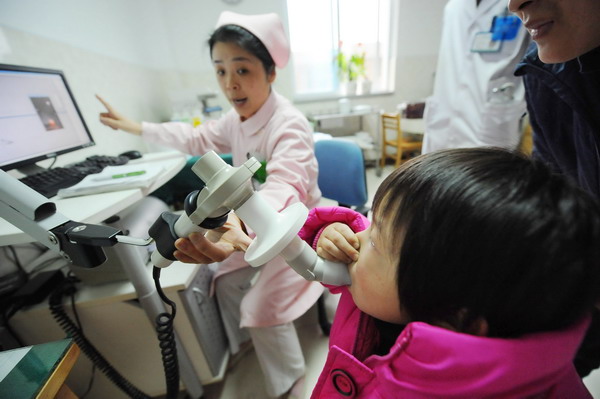 A medical worker tests a young girl for lead poisoning at the Anhui Provincial Children's Hospital in the province's capital Hefei on Wednesday. [China Daily]
The re-examination of 23 children suspected of having suffered lead poisoning in a town in east China's Anhui province has found the amounts of lead in their blood were within normal levels, but local officials and parents remain convinced that an unlicensed battery plant is responsible for poisoning their children.
The Anhui provincial health department announced the results of the re-examination on Thursday, while the Huaining county government maintained its view that the illegal battery plant, which it has closed, had produced excessive lead pollution and damaged the health of the town's children. Meanwhile, the Ministry of Environmental Protection has dispatched an investigation team to Anhui province, China Central Television reported on Thursday.
The provincial health department said in a statement on its website that since Dec 28 more than 200 children from Gaohe township in Huaining county have had blood tests at the Anhui Provincial Children's Hospital.
The hospital in Hefei, capital of Anhui province, conducted tests on those children's peripheral blood and 23 of them were diagnosed with a high blood lead level, the statement said.
However, the province's Center for Disease Control and Prevention collected venous blood from those 23 children for a second test on Wednesday and the results did not find abnormally high levels of lead, the statement said.
Xinhua News Agency reported that the hospital had tested 280 children, of whom 28 (five were newly found to be suffering lead poisoning on Thursday) had been hospitalized for symptoms of lead poisoning.
The hospitalized minors, aged from nine months to 16 years old, were diagnosed with more than 250 micrograms of lead per liter of blood, Cheng Bangning, a doctor at the micro-elements testing laboratory at the hospital told Xinhua.
"My son is now very cranky and restless. He yells a lot," Huang Dazhai, the father of a 5-year-old boy who was found to have 330.9 micrograms of lead per liter of blood, told Xinhua.
Just 100 micrograms per liter is enough to impair brain development in children.
Excessive lead in the blood, particularly in children, can damage the digestive, nervous and reproductive systems.
All hospitalized children were residents from the densely populated Xinshan community in Gaohe township, Xinhua reported.
Local officials said on Thursday that an unlicensed battery plant next to the community was to blame for the lead poisoning.
Borui Battery Co Ltd, which is separated from Xinshan community only by a narrow road, produced excessive lead pollution that put local children's health at risk, the Huaining county government said in a press release.
Borui started production in 2007, and ever since the air has been filled with a strong smell and the walls in the neighborhood have been covered by thick grey dust, Huang Jingyu, a 61-year-old resident at Xinshan community told China Daily.
"Borui did not buy any facilities for sewage disposal until a month ago. The polluted water from the plant has been poured directly into the soil for a long time," said angry Huang, whose grandson was recently diagnosed with more than 300 micrograms of lead per liter of blood.
A fourth-grade student at the Xinshan Primary School near the battery plant was first diagnosed with excessive lead in his blood last December, local residents said.
More and more worried parents started taking their children for blood tests from late December, when 23 students at the school were found with dangerously high levels of lead in their blood.
The local authorities have already shut down Borui after the Huaining county's environment protection bureau found that the battery plant had caused the lead poisoning. It noted that the company had not passed the necessary environmental checks and had been operating illegally.
China's environmental protection authorities demand that no battery plant be built within a radius of 500 meters from residential communities.
A pediatrician surnamed Fu at a local hospital told China Daily that in the past decade a lot of companies have set up plants and factories in the area, and that this has severely polluted the environment.
Similar cases have been emerging around the country.
In July 2010, four children living near a battery plant in East China's Jiangsu province were found to be suffering from lead poisoning.
In South China's Guangdong Province, a battery factory was shut down in December 2009 after at least 25 children living nearby were found to have excessive lead levels in their blood.
(China Daily January 7, 2011)