Residents Hit by Big Freeze
Adjust font size: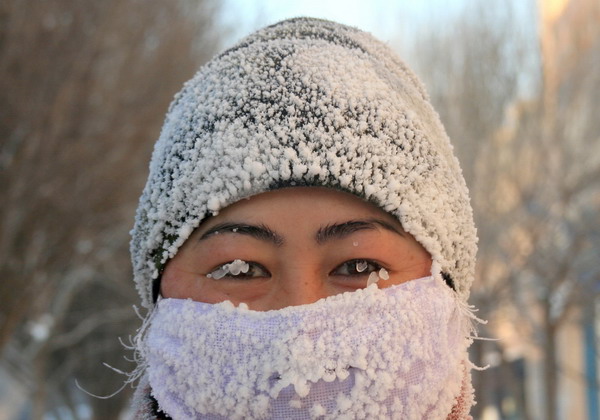 A sanitation worker smiles through a mask of ice on Wednesday in Karamay, a city in the Xinjiang Uygur Autonomous Region. Temperatures in the city dropped to below -30 C in recent days. [China News Service] 
Icy weather and sleet have affected more than 3.83 million people across South China since Saturday, with the cold snap forecast to last 10 more days.
The harsh weather, which arrived on New Year's Day, has also driven up grocery prices and cut supplies in some cities. As of 5 pm on Tuesday, the freezing conditions had killed one person and forced the evacuation of 58,000 residents in Jiangxi, Hunan, Sichuan and Guizhou provinces and Chongqing municipality, according to a statement on the website of the Ministry of Civil Affairs on Wednesday.
More than 1,200 houses have collapsed and another 6,600 damaged. The frost has also affected about 142,400 hectares of crops, reads the statement.
Direct economic losses are estimated to hit 1.35 billion yuan (US$204 million). The ministry has ordered local civil affairs offices to take measures to minimize losses.
Relief workers will deliver supplies of food, water, blankets, clothes and quilts to those affected to "ensure no one suffers from cold or hunger", said the statement.
The ministry has prepared 30,000 quilts and 30,000 cotton-padded coats for evacuated residents in Hunan and 50,000 quilts and 50,000 cotton-padded coats for those in Guizhou.
The National Meteorological Center said on Wednesday that the freezing weather is likely to continue for at least another week.
At an isolated town cut off by the freezing weather in Ziyuan county, Guangxi Zhuang autonomous region, vegetables, meat and eggs were still in stock on Wednesday, but prices had risen 20 percent for radishes and 50 percent for chilies.
"All groceries are trucked in from the neighboring city of Guilin. Now the ice-covered highway is open for only a few hours a day," said Huang Yongyue, Party chief of Ziyuan.
Authorities in Guiyang, capital of Guizhou, capped the price on Chinese cabbage and radishes, the two most common vegetables on the dinner table, to prevent price hikes.
More than 100 primary schools in Guiyang's Yuyan district and Kaiyang county have suspended classes over safety concerns, said a spokesman for the provincial education department.
Bad weather has also hit Hunan and Chongqing, bringing traffic to a standstill on icy expressways.
In Hunan's Xiangxi and Huaihua, most bus services were suspended. On State Highway No 319, which zigzags through western parts of the province, toppled vehicles and stranded passengers could be seen almost every kilometer.
In Chongqing, the cold snap froze 285 km of pipeline taking drinking water to Youyang county on Wednesday, cutting supplies to 85,000 residents, a county government spokesman said.
The cold snap has put extra pressure on the power grid as more residents turn on air conditioners and electric heaters to stave off the winter chill. Only northern China has coal and gas-fueled central heating because southern provinces are traditionally believed to be warmer.
Cold waves have also ravaged Northwest China's Xinjiang Uygur Autonomous Region. Temperatures dropped to as low as -49 C in Altay prefecture and below -30 C in the city of Karamay in recent days.
(China Daily January 6, 2011)