Factory Jobs Go A-begging
Adjust font size:
Liu Jingchun, a 28-year-old packing worker from Xiamen, Fujian Province, has just rejected a job offer that would have paid him 1,500 yuan (US$227) a month - and a 500 yuan bonus - if he stayed on for at least three months.
He is confident that another better-paying job will come along in a very short time, thanks to a severe labor shortage facing China's coastal region.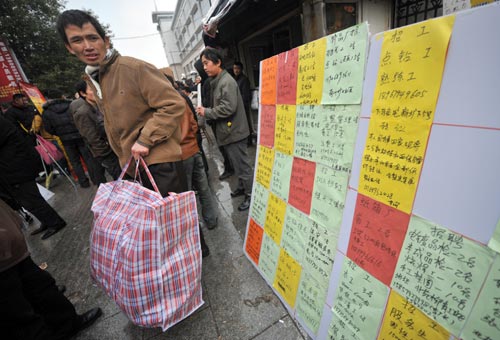 A newly arrived migrant worker in Yiwu, Zhejiang Province, checks out recruitment advertisements on Dec 16. Many manufacturing companies in the Yangtze River Delta region are facing labor shortages. Official figures show that in the third quarter of 2010, about 2.11 million laborers were needed in Zhejiang, but only 1.06 million people applied. [Xinhua] 
"The wages are rocketing up due to the shortage," Liu said at the Xiamen Employment Service Center.
"And I don't want to live with five others in the dormitory offered by the company. Three others at the most."
Liu's confidence is not uncommon, especially among the locals, as factories in the country's manufacturing hub continue to face labor shortages, exacerbated by next month's Spring Festival holidays.
Stanley Lau, deputy chairman of Federation of Hong Kong Industries, said: "I can say that many Hong Kong-funded manufacturers have begun to see a labor shortage several months ago, or even in the entire year." What troubles factories and companies most in both Yangtze River Delta and Pearl River Delta regions is that the workers - mainly from country areas - are returning home for the Chinese New Year holidays, with many not planning to come back.
Zhou Yihong, administration manager of Wenzhou San Marco Footwear, said that despite an increase in orders, "the total amount of products and profits have decreased by 12 percent because the number of staff has declined by 20 percent".
The factory has 800 staff but needs at least 1,000 workers just in the production line.
In Xiamen, the shortage has been felt for more than a month. Huang Jinzhi, from Xiamen Dong Mao Optical Tech Co Ltd, a glasses manufacturer, said 80 out of 100 workers left in the last month and the factory is weeks behind schedule.
"The shortage usually peaks in the end of January and we used to have a month to recruit enough casual workers for the shortage which will last to March," Huang said.
"But this year the early shortage has caught us on the hop. We have to talk to clients about delivering after the festival."
For a week, Huang has been trying to recruit at the Xiamen Employment Service Center, a recruiting site of unskilled factory workers in Xiamen, but she said few people are applying and none has been recruited.
"We have increased the basic payment from 900 yuan to 980 yuan. With incentives and merit pay, workers can get more than 2,000 yuan each month," she said.
"But most of them ask for more, like full board and lodging. I can understand them but the company cannot afford the wage pressure."
Customer service workers in catering companies are also in great demand, especially as the Spring Festival approaches.
"Tables for the Chinese New Year Eve (on Feb 2) have been fully booked but nearly half of our staff members will be on holiday during that period," said Chu Genti, general manger of a restaurant in Shanghai.
Chu said she began recruiting more employees from November but is still looking for five temporary waitresses to make up the gap for the Chinese New Year.
In fact, special measurements have been carried out in those industries to stimulate enthusiasm among migrant workers.
A statement by the Ministry of Human Resources and Social Security said up to 31 provinces and cities have increased minimum wages by at least 24 percent in the past year.
And to encourage migrant workers to stay in cities, Chongqing municipality, Zhejiang and Shaanxi provinces said the minimum wage will be increased again from the middle of this month.
In Shengzhou, Zhejiang Province, a private industrial enterprise even held a job fair at the local prison and signed up 42 prisoners due to be released within two months.
"Proper skills training has been organized among the short-term prisoners to meet the increasing demand in the labor market," said a local official in Shengzhou, who didn't want to give his name.
Some companies are also offering incentives to staff to recommend family members or friends to work in the factories on long-term contracts.
One factory is offering a 200-yuan payment to staff who recommend one person to work for at least one year. The factory has been losing 30 percent of its workers every three months.
Many manufacturers in the Pearl River Delta region also had to move part of their businesses to other provinces to sustain business growth.
Zou Zeguo, deputy director of Zhejiang Taizhou Chamber of Commerce in Guangdong, said the chamber has organized about 40 leather companies to move their manufacturing to Suzhou, Jiangsu province, where wages are 30 percent lower than in the Pearl River Delta.
Xiamen Employment Service Center director, surnamed He, said: "As many factories are moving inland last year, I am afraid the labor shortage in the coastal city might be worse this year."
He said the center might organize factories to recruit in western China and "attract more workers with higher payment and better work condition".
(China Daily January 6, 2011)