Drought Threaten Wheat, Water Supplies
Adjust font size: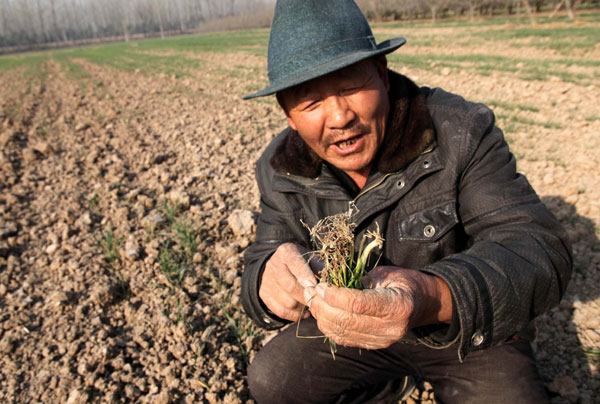 Peasant Li Xiangyin shows a withered wheat seedling on his land in Huaibei city of Anhui Province on Nov 11. The city has had no rain for three months. [China Daily] 

Unusually high November temperatures and low rainfall were threatening water supply and the growth of winter wheat in the North China Plain, a senior water resource official revealed on Saturday.
Chen Lei, minister of water resources and deputy director of the Office of State Flood Control and Drought Relief Headquarters (SFDH), said at a preparatory meeting on drought relief that temperatures in most agricultural areas since mid-November were 1 C to 4 C higher than in previous years. At the same time there was a sharp reduction in rainfall in the North China Plain. The SFDH revealed that a wheat planting area of 57.99 million mu (3.87 million hectares) was plagued by a drought caused by higher temperatures and water shortages in areas along the alluvial plain of Yellow River and Huaihe River. Some 1.77 million people and 1.55 million head of livestock have suffered shortages of drinking water.
The drought-affected area accounted for 19 percent of the country's winter wheat planting area. The drought's influence on next year's wheat yield was hard to determine as the yield will also depend on subsequent weather and drought relief work, Lu Bu, a researcher at the Chinese Academy of Agricultural Sciences (CAAS), told China Daily on Sunday.
In North China's Shanxi Province, winter wheat in a planting area of 2.4 million mu (160,000 hectares) is suffering from drought, although it is not severe. The situation is likely to continue given the lingering windy and dry weather, Wang Zhiwei, deputy chief of Shanxi provincial climate center, told China News Service (CNS) on Thursday.
The average temperature in Shanxi was 3.4 C in November, 1.3 C higher than average, while rainfall in most areas of the province was down by 90 percent, CNS reported.
Chen said the drought was expanding rapidly, and the situation was even worse in areas without enough reserve water.
Chen also stressed that the government will give priority to safeguarding the supply of water for people's daily lives and to improving the management of water resources, in addition to enhancing weather monitoring and forecasting.
However, Lu from CAAS said that, in the long term, China needed to improve its water conservation to minimize losses from natural disasters such as flood and drought.
"Climate change poses many challenges for China's grain production and food security," Lu said.
"There is an urgent need to build more water conservation facilities, which will not only help us to better manage water resources but will also act as a solid foundation for natural disaster relief work."
China's National Bureau of Statistics said on Friday that the country's grain output rose 2.9 percent year-on-year in 2010 to 546.41 million tons. This marked the seventh consecutive year of growth for China's grain output.
The preliminary figure came from a sample survey in 31 provincial-level regions on the country's mainland.
According to the survey, the drought-ravaged south and southwestern regions, including the Guangxi Zhuang autonomous region, and Guizhou and Yunnan provinces, witnessed a remarkable decline in grain production this year. The combined grain output in the three provincial-level regions dropped 3.8 percent from the previous year to 40.48 million tons, the bureau said.
China's northeastern areas and the Inner Mongolia autonomous region, however, reported a 13.4 percent surge in grain production this year, with the total output reaching 117.79 million tons.
(China Daily December 6, 2010)