Bright Prospects for Solar Industry
Adjust font size: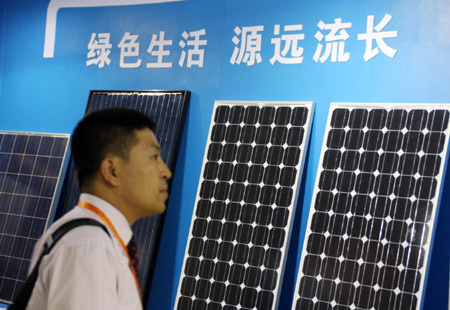 Walker passes by a polycrystalline silicon solar panel at Beijing International Photovoltaic Solar Energy Conference and Exhibition. [China Daily] 
China is ready for the large-scale application of solar power generation which is set to grow at an annual rate of 1 gigawatt (gW) after 2012, the Ministry of Finance said on its website on Thursday.
The authorities will encourage more pilot projects over the next two years and grant a 50 percent subsidy to key equipment in these projects, according to the ministry.
Other fiscal policies include subsidies ranging from 4 yuan (60 cents) to 6 yuan a watt.
Economic zones and industrial parks will be the major venues for the introduction of solar power.
The ministry also announced the first batch of 13 pilot projects, mainly in new development zones in Henan, Anhui, Shandong, Jiangxi, Hubei, Hunan, Hebei, Liaoning and Zhejiang provinces, and Beijing, Tianjin, Shanghai, and Shenzhen.
The acceleration of the application of solar power in China comes after the United States launched a Section 301 investigation into China's policies and measures related to clean energy, raising concerns over trade barriers in the solar and wind power sectors.
Chinese solar panel makers have also felt the pinch this year from euro depreciation. Europe is the largest buyer of Chinese solar products.
Currently, 98 percent of China's solar photovoltaic (PV) products are for export. Export volume reached US$15.44 billion in 2009, a year-on-year increase of 147.75 percent. However, when it comes to domestic usage, China is still at the initial stage.
China launched bidding for its first batch of solar power projects in 2009, a 10-megawatt project in Dunhuang, Gansu province. This was awarded to the bid with the second-lowest tender price - 1.09 yuan per kWh.
China started public bidding for its second batch of solar power plants in August, 13 projects with a total capacity of 280 megawatts.
The risks of a long-term exposure to foreign markets have made solar equipment makers rethink their strategy and diversify markets.
"Chinese PV makers are starting to face growing competition from foreign rivals who are gradually recovering from the economic downturn, forcing them to explore domestic markets while diversifying overseas," said Jiang Qian, chief industry analyst with China Investment Consulting.
Many makers of solar power equipment are exploring domestic opportunities and preparing for a booming solar market in China.
But uncertainty about the tariffs China's electricity grids will pay for the power generated has dampened their enthusiasm, industry players said.
China is expected to boost its installed capacity of solar generation more than 60-fold to 20,000 megawatts by 2020, according to the Ministry of Science and Technology.
(China Daily December 3, 2010)