Touching Orphans' Souls with Sound of Music
Adjust font size: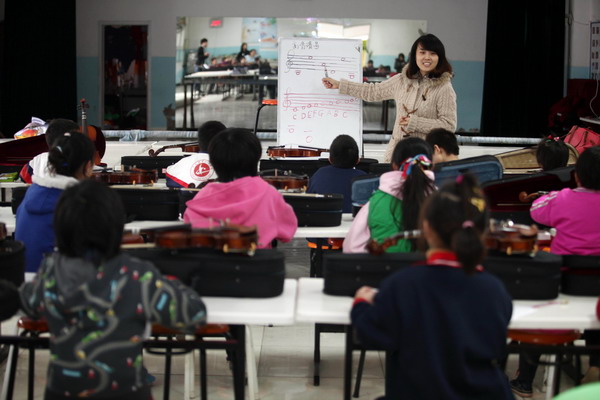 Kong Jiemin, a music teacher with the Wings of Music Charity, gives a lesson to students at Beijing Angel Training School. [China Daily]
After hearing the big news, the classroom erupted with screams of excitement as children ran into the halls to tell their friends: Professional musicians were coming to Beijing Angel Training School to teach them how to play the violin.
It did not matter that most of the students had no idea what a violin is.
"When the violinist opened the case and held up the instrument, they all screamed, mouths wide open," said Zhang Mei, 59, who teaches some of the 76 orphans at the school.
On stage was Chen Qian, one of several highly trained musicians with the Wings of Music, a charity project aimed at helping disadvantaged youths gain confidence and lay solid foundations for a better future.
A 2003 nationwide study by the China Center of Adoption Affairs showed that 74 percent of abandoned and orphaned children develop behavioral problems, six times that of children with parents.
"By touching the souls of needy children through classical music, we want to drive away the inferiority and loneliness brought by the mischief of fate," said Chen, 29, who is also the project's executive director.
Since its launch in February last year, Wings of Music has formed two orchestras and a choir made up of students at Beijing Angel Training School and the capital's Dandelion School, a private nonprofit middle school for the children of low-income migrant workers.
The groups have already given several performances at major events, including an award ceremony for One Foundation, a charity set up by Chinese movie star Jet Li.
Although a familiar practice that has yielded results in the West, music therapy is still relatively little used in China.
The people running Wings of Music reject the suggestion they are performing therapy; however, many in the education field say the project is "pioneering" efforts to engage a traditionally troubled group through music.
Education bureaus do promote music in schools "but disadvantaged children, such as orphans and those from migrant families are often forgotten", said Lu Tianlong, vice-chairman of the Beijing Association on Education for Sustainable Development.
"In big cities like Beijing, children of migrant workers account for a high proportion in ordinary public primary schools but the authorities often pay more attention to modern key schools instead," he added. "Wings of Music is filling the gap."
Inspiring voices
Chai Liang, 42, a professor of orchestral instruments at the Central Conservatory of Music and the mastermind behind Wings of Music, said he simply wants to help youngsters from poor families "see a beauty" normally reserved for the rich.
His inspiration came from the Simon Bolivar Youth Symphony Orchestra, who he saw perform at the National Center of Performing Arts in January 2009. The group was formed in Venezuela three decades ago by conductor Jose Antonio Abreu, who began giving free, daily music lessons to 11 children aged 4 to 6, mainly orphans and juvenile deliquents.
It went on to earn critical acclaim and, today, Venezuela has roughly 250 orchestras made up of children, teenagers and adults from impoverished backgrounds.
"The underprivileged who could have been hidden problems in society are instead musicians and celebrities," said Chai, who with his friend Guo Yong, also 42, set out to replicate the success in China by offering not only a sense of music but "a sense of status".
"The most painful thing about poverty is not hunger or the need to migrate, but that feeling of lacking an identity," added executive director Chen. "In an orchestra or choir, a child can develop a noble heart and learn how to become a model for their community and family."
Although still a fledgling project, Wings of Music is already seeing results. This summer, Dandelion School's orchestra also won a performance award at a national violin art festival.
"The children were timid on the stage last year but they were far more comfortable this time," said Guo Shan, chairwoman of China Symphony Development Foundation, which is affiliated with Wings of Music. "Their low self-esteem had made way for self-confidence."
Giving strength
Guo Tingting is in her second year at Dandelion School. Although born in Xinyang, a southern city of Henan province, she has grown up in Beijing's dusty outskirts.
Her migrant worker parents earn a living doing odd jobs in an industrial area and are so poor that they are exempt from paying the tuition fees of 680 yuan ($100) per semester.
The 13-year-old, who has a younger brother, took up the violin as part of the first Wings of Music orchestra. "We had a choice of eight instruments and I wanted to learn all of them," she said.
But Guo's dreams of playing the violin did not include the hours of endless practice that is needed to master it. After weeks of practice, she suddenly dropped out - only to return a week later.
"I realized that playing the violin is the first tremendous thing I've ever done in my life," said the teenager, who speaks with a maturity well beyond her years. "I would always look on myself as a loser if I'd given up."
Related readings:
'Touching songs are good for the soul'
Wang Liwei, 43, is honorary deputy mayor of Guanxian county, Shandong province, and publisher of The Charitarian magazine. In 1999, he started a choir with underprivileged young people.
A recent three-year study conducted in four major cities - Beijing, Shanghai, Guangzhou and Jinan - by researchers at Shanghai-based East China Normal University found that migrant children experience great difficulty integrating into a new city, socially and psychologically.
"A child will be full of hatred if he or she is marginalized by the society," said Cui Lijuan, a professor of psychology and cognitive science, who led the investigation.
With this in mind, Wang Chen, a vocal teacher for Wings of Music, explained that the orchestra's project is not only about making youngsters proficient in an instrument, but also "making them stronger when confronted with difficulties".
Today, whenever Guo feels down or discouraged, she said she picks up her violin and it fills her with energy.
"When I got up on stage (at the violin festival) the first time, I was extremely nervous. I knew there were many rich people watching," she said. "But I'm not scared any more. I don't feel inferior. I can also be successful if I cherish my chance and keep learning."
Her experiences have been shared by many others at her school and at Beijing Angel Training School, where work to build its orchestra started in earnest last September.
"Through hard practice, they will find what is worth fighting for," said violinist Chen Qian. "They will practice and fight because music is something they can rely on when they have nothing else."
Talent in caring
Although being part of an orchestra can help orphans and children of migrant workers to connect with society, mental health experts warned such activities also open up the possibility for more heartache.
Cultivating talented in youths through professional training is a good idea, said Gao Tian, chairman of the music therapy research center at the Central Conservatory of Music, but "those who lack talent are often the ones more in need of psychological care".
"If they feel they are being left behind by the orchestra, it could cause even more damage to their attitudes," he said.
Gao suggested this could be the reason why several large-scale folk music groups started for poor children in the last few years had failed to last, including one in Mianzhu, a city devastated by the 2008 Sichuan earthquake.
However, Wings of Music violinist Chen Qian assured: "What we do for our children has nothing to do with talent. We will cherish every one as long as they are willing."
Despite the concerns, most experts agree that Chai Liang's orchestras are helping to raise awareness of the underprivileged children. Several told China Daily that they hope it will inspire others nationwide to follow suit, just like the Simon Bolivar Youth Symphony Orchestra.
"They may cost time and energy but these kinds of projects deserve the efforts of musicians and schools," said Guo Shan of the China Symphony Development Foundation. "What the children need is precisely this input, rather than a simple donation ceremony."
(China Daily November 26, 2010)