Environmental Quality Ranks High on Agenda
Adjust font size: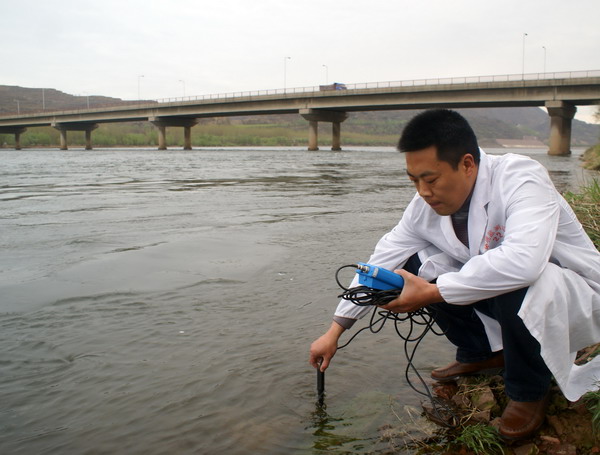 The environmental protection bureau of Jiyuan, Henan province, tests the water quality of the Yellow River on April 12. [China Daily]
China intends to establish a system to comprehensively assess environmental quality during the period of the 12th Five-Year Plan (2011-2015), in order to get an accurate picture of the ecological situation, which will provide a solid foundation for policymakers, officials said Monday.
"Some air, water and soil pollutants are currently being monitored, but a comprehensive appraisal system for environmental quality still does not exist. There hasn't been a major breakthrough on that front over the past 30 years," Wan Bentai, chief engineer of the Ministry of Environmental Protection, said at a conference in Beijing.
"The key is to be able to explicitly explain how reducing major pollutants affects environmental quality," said Wan, who admitted the current system of monitoring and assessment has its defects.
Although China has significantly slashed emission levels of some major air and water pollutants over the past five years, the trend toward environmental deterioration has not been curbed effectively, according to Wei Fusheng, a member of the Chinese Academy of Engineering.
"For example, while China has put great effort into reducing sulfur dioxide emissions, the problem of acid rain is still quite severe," he said.
Sorting out what the major pollutants are - those that have a decisive impact on the ecological environment and people's health - and understanding how they travel through a certain area are a priority for building the monitoring and assessment system, said Li Guogang, deputy director of the China National Environmental Monitoring Center.
As a country, China needs to be brought up to date in terms of the technology available for monitoring the environment, Wei said. The country currently monitors 200 pollutants, while more than 1,200 indicators are measured in the United States.
Insufficient information from inadequate environmental monitoring poses a threat to public safety when pollution accidents occur, especially for a big petrochemical producer like China, he said.
With more than 20,000 petrochemical plants, China is a leading global producer of more than 100 types of chemicals. About 50 percent of the factories are located near rivers or densely populated area.
"But many hazardous and toxic chemicals are not monitored on a daily basis," Wei stressed. "When an accident occurs in the production, storage, transportation, use or waste disposal process, the emergency services could be placed under extreme pressure."
(China Daily November 23, 2010)