English Teacher Finds His Way Through the Tao
Adjust font size:
Che Garcia is telling the story of the first time he encountered Chinese culture in person, as an exchange student in Taiwan. The Taiwanese university pulled out of the program, and he lost half his funding and his dormitory and wound up staying with friends of friends - who turned out to be running an opium den out of their apartment - and, eventually, semi-homeless for three months, spending his days reading at the public library. And he interrupts himself, asking, "Can we get back to the Tao?"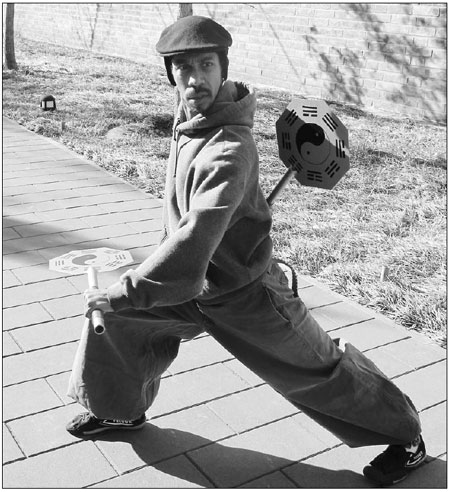 Che Garcia practices with a pair of weapons he had specially made, based on an old design his tai chi master described. [China Daily]
After 17 years in China, the 30-year-old Brooklyn native and English teacher at the Haidian Foreign Language Experimental School considers himself first and foremost a student of the Tao, via tai chi.
Garcia is a serious student of tai chi. Speaking of his devotion to his teacher and the traditional martial art, he compares himself to a cult member.
"It's a serious commitment to a person, a lineage, the group," he says. "You give your life to something."
His training certainly is not limited to the relaxing movements widely associated with tai chi in the West.
Garcia said he meets his teacher at midnight when he's busy, practicing outdoors in a public park until 4 am even in the dead of winter. Even when it snows, he said, he has to carry extra T-shirts to deal with the sweat.
On a recent windy Saturday, he's demonstrating forms for a pair of journalists, shivering in winter coats and gloves. Clad in a sweatshirt and light cotton pants, he doesn't flinch as he moves through a new routine with a rare weapon called the shuang tai ji tu, or double tai-chi diagram, a pair of octagon-headed maces printed with the yin-yang symbol. Garcia had the unusual weapons custom-made from scrap metal, based on his teacher's memory of his own early weapons.