Chinese Soldiers Leave for UN Peace Mission in DR Congo
Adjust font size:
A 100-member team of Chinese soldiers left Friday for the Democratic Republic of Congo (DRC) for an eight-month UN peace-keeping operation there.
They formed the first batch of China's 12th peace-keeping team to DRC since 2003. They will be joined by a second batch of 118 soldiers who are scheduled to depart on Nov. 28.
The 12th team comprises military engineers and medical staff.
China's 11th peace-keeping team to DRC, made up of 220 soldiers in total, left Lanzhou, capital of northwestern Gansu province in March.
United Nations (UN) peacekeepers of China attend a farewell ceremony in Xi'an, capital of northwest China's Shaanxi Province, Nov. 19, 2010. Part of the 12th group of Chinese UN peacekeeprs for The Democratic Republic of Congo, including 80 engineers and 20 medicals, set off on their 8-month-long UN peacekeeping mission on Friday. [Xinhua]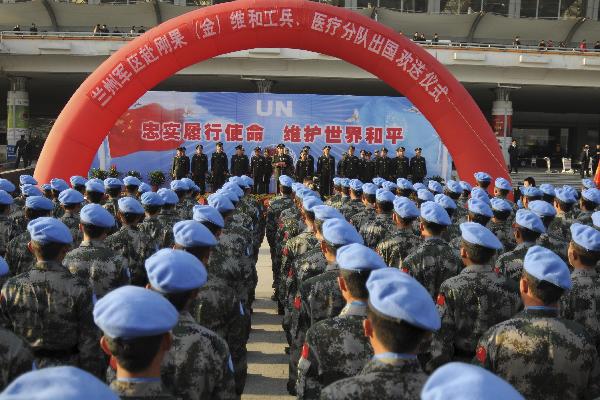 United Nations (UN) peacekeepers of China attend a farewell ceremony in Xi'an, capital of northwest China's Shaanxi Province, Nov. 19, 2010. Part of the 12th group of Chinese UN peacekeeprs for The Democratic Republic of Congo, including 80 engineers and 20 medicals, set off on their 8-month-long UN peacekeeping mission on Friday. [Xinhua]
(Xinhua News Agency November 20, 2010)