Clean Energy Hot for Many
Adjust font size: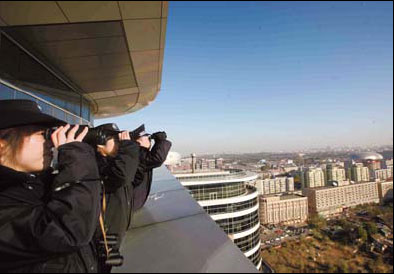 Staff members from Xicheng environment protection bureau use binoculars to check chimney emissions. [China Daily] 
With the firing up of the heat supply system on Monday, Beijing welcomed an additional 13,000 households in Dongcheng and Xicheng districts to the centralized system, marking the end of the polluting and dangerous coal-burning days in those parts of town.
The 13,000 households joined 160,000 homes in the capital's core areas that had already had their coal-burning heating systems replaced with new clean-energy boiler rooms since 2001. The homes are now being heated by centralized systems that use either electricity or natural gas.
The Beijing Municipal Environmental Protection Bureau says the project to upgrade heating sources is expected to reduce the capital's need for coal during the heating season by 210,000 tons to 260,000 tons.
Because of the massive reduction in the dependence on coal, the capital is likely to see a sharp reduction in the production of pollutants such as sulfur dioxide (SO2) and carbon monoxide (CO) - by 160 tons and 8,000 tons respectively - during each heating season, according to Jintaihengye Co Ltd, which supplies coal to the heating system in the downtown districts.
The Dongsi air quality monitoring station, which is located in an area of densely concentrated low-rise homes that had mainly depended on small coal stoves for heat, is already detecting positive changes in air quality because of the project.
In 2000, the concentration of SO2 and CO measured in the air was 195 micrograms per cubic meter (g/m) and 6.8 milligrams/m, but the number fell to 73g/mand 2.7 mg/min 2009.
Homeowners say they are no longer bothered by the smell of coal and thick at home and more importantly are now free from the risk of CO poisoning.
And the residents are getting the benefits for the same price as before, said Li Wei, vice-director of the atmosphere environment management department under the Environmental Protection Bureau.
"Residents have to pay only one-third of the cost of heating facilities. The rest will be covered by the government," Li said.
"Besides, for those using electric heating, they can charge up the heating appliance during lower-price hours prescribed by the government."
Moreover, the new heating system will save money for the government as well. The Pingyuanli boiler room, for example, installed an automatic control system that will generate heat depending on the temperature outside - with more heat pumped out on colder days - to avoid waste, said Zhang Kewen, vice-manager of Yifang Investment Management Company, operator of the boiler room.
Because of the range of benefits, the Environmental Protection Bureau says it will convert the remaining 58 coal-burning boiler rooms located in five districts - including Chaoyang and Haidian - into new-energy-driven facilities during the period of 12th Five-Year Plan (2011-2015).
(China Daily November 16, 2010)