Addicted to Antibiotics
Adjust font size: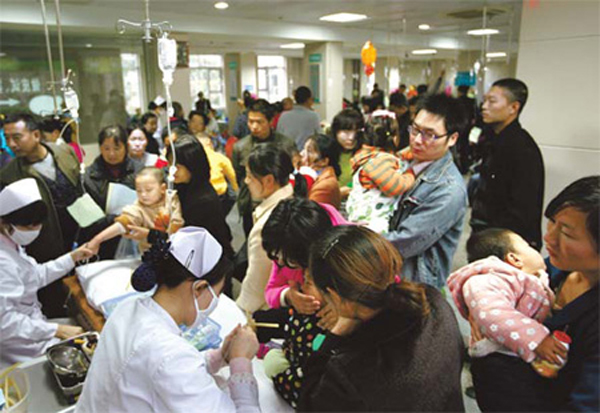 Parents for their children to be attached to intravenous drips at the Xiangfan No 1 Hospital in Xiangfan, Hubei Province, on Oct 26. Overuse of antibiotics has become a big problem in China.  [China Daily]

When Yu Liya's month-old daughter was diagnosed with pneumonia in September, she reluctantly agreed to let doctors put the child on a course of third-generation cephalosporin.
Although the trained pharmacist from Chongqing was fully aware of the antibiotic and its side effects, such as nausea and diarrhea, she was not about to take any chances with her baby's health.
"The doctors said they weren't sure if the cause of the illness was a bacterial infection," said Yu, 27, who was both relieved and angered when test results a week later showed no evidence of such an infection. "My daughter could have recovered without antibiotics," she complained.
With a hospital usage rate of roughly 70 percent nationwide, more than double the level recommended by the World Health Organization, China is now a nation "addicted" to antibiotics.
Health experts say this rampant abuse is not only increasing the risk of superbugs, such as the NDM-1 strain that hit the mainland last month, but is also leading to more babies being born who are resistant to powerful medication.
At Chongqing Southwest Hospital, where Yu works, pediatricians said they have already found many newborns are resistant to antimicrobial drugs, which work against disease-producing micro-organisms.
"It says in my medical school textbook that streptococcus pneumoniae, which causes pneumonia, is sensitive to penicillin," said doctor Wang Yang. "But the bacteria has long beaten penicillin, so we have to prescribe more advanced antibiotics to the children."
Shi Yuan, chief physician of pediatrics at Chongqing Daping Hospital, added he has noticed a similar trend among the babies of women who have overused antibiotics during pregnancy, suggesting the possibility of intrauterine infection.
Examples of antimicrobial-resistant youngsters are now widespread, resulting in even simple conditions becoming difficult to treat.
"I know that in the United States pediatricians usually avoid giving children antibiotics. That's because they have a cleaner environment," said Zhou Zhongshu, head of pediatrics at China-Japan Friendship Hospital in Beijing. "We use antibiotics and even advanced antibiotics on our children because we are forced by our environment, which contains antimicrobial-resistant bacteria."
The situation, experts say, is highly alarming, especially as many pathogens (disease-producing micro-organisms) can now successfully battle antibiotic agents.
Gan Xiaoxie is a researcher at Chongqing Cancer Hospital's clinical laboratory, which conducts drug sensitivity tests on blood and phlegm samples. She explained that, 15 years ago, a condition like Methicillin-resistant staphylococcus aureus, which causes skin infections, was sensitive to penicillin, "but now we need to kill it with a combination of ultimate-level antibiotics".
"Macrolides (antibiotics), which successfully lowered the death rate from pneumonia three decades ago, are just not that effective anymore," added Tang Taiqin, a professor of pharmacology at Jinan University's No 1 Hospital in Guangzhou, Guangdong Province.