UN Chief Urges China to Continue Reducing Pollution, Gap Between Rich and Poor
Adjust font size: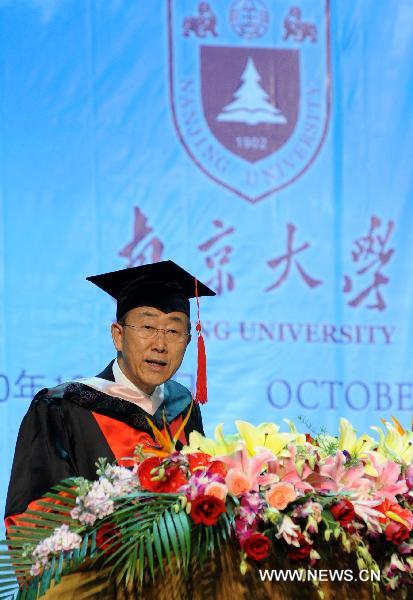 United Nations Secretary-General Ban Ki-moon speaks at an awarding ceremony in Nanjing University in Nanjing, capital of east China's Jiangsu Province, Oct. 31, 2010. Ban Ki-moon was awarded an honorary Doctor of Laws degree by the university Sunday. [Xinhua]
United Nations Secretary-General Ban Ki-moon on Sunday urged China to keep moving down the path of sustainable development and put greater emphasis on social equity and environmental sustainability.
Addressing students of Nanjing University in east China's Jiangsu Province, Ban said as the world's most populous country with the fastest growing economy, China has become the world's largest manufacturer and exporter but also the greatest emitter of greenhouse gases.
"Seven of the world's 10 most-polluted cities are in China. Your environmental footprint is growing daily," Ban said, adding that fortunately China is beginning to fight the side-effects of prosperity -- climate change and environmental degradation -- besides poverty.
The UN chief noted that many of these development problems were raised during discussions as Chinese leaders recently met to draw the 12th Five-Year Plan for economic and social development of the country from 2010 to 2015.
Ban applauded the Chinese government's goal of leading the country into an all-around Xiaokang society, or well-off society, by 2020 and said making Xiaokang a reality will, perhaps, ultimately become China's "great export -- its gift to humankind."
"You already have a concept for it... Let China be the country to show the way ahead. Let China show the world how to live comfortably, in harmony with the environment while leaving none of its citizens behind," Ban said.
"China is serious about sustainable development. We all need to get serious about sustainable development," he added.
On the UN Framework Convention on Climate Change (UNFCCC) talks, Ban said he is pleased to see progress in adaptation, technological cooperation and steps to reduce deforestation, but he has concerns over the slow progress in setting mitigation targets, monitoring, verification and the future of the Kyoto Protocol.
The UN chief called on all governments to work together in a spirit of compromise and common sense in pushing forward UNFCCC progress during the Cancun meeting in December.
Ban was in Nanjing for a short visit after attending the Summit Forum held on the closing day of the Shanghai World Expo. He received an Honorary Doctorate in Laws from Nanjing University.
Ban began his China visit on Saturday and is expected to leave on Wednesday.