Work Safety Situation Still Looks Grim
Adjust font size: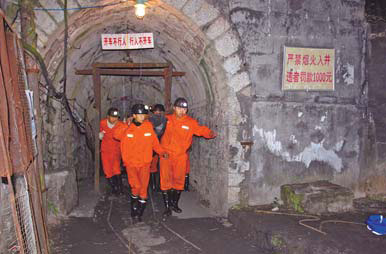 Rescuers on Wednesday carry the body of a miner, killed in a coal mine flood, in Puding county of Guizhou Province. [Xinhua] 
The country's top work safety watchdog said on Thursday it will extend a crackdown on illegal operations in mines, transport, construction and hazardous chemicals by one month, because of the success it has had so far in reducing industrial accidents.
About half of the major work safety accidents in the past two months resulted from illegal operations, although the number was down from the 75 percent in the April-to-June period, according to the State Administration of Work Safety (SAWS), which reported the latest figures on Thursday.
A State Council order in July called for SAWS to cooperate with the Public Security and Transport ministries and other central departments in cracking down on unlicensed activities in mines, transport and construction work, hazardous chemicals and metallurgy, from Aug 1 to Oct 30.
Luo Lin, the head of SAWS, said the crackdown will run until the end of November. He reported this at a national conference on Thursday, explaining that the crackdown on problematic companies has helped curb illegal production activities at the local level.
According to SAWS figures for August and September, they dealt with 612,600 cases of illegal operations. As a result, they told 62,500 organizations and companies to halt production and shut down 8,687 unlicensed organizations and companies.
Luo said, however, that the general work safety situation is still "grim" and that whatever progress has been made is uneven.
He said central government inspectors have discovered that some local authorities do not follow the central government's order completely and some even ignore illegal activities.
He said that local governments need to announce any punitive judgments that are handed down in serious cases, and name the companies that are shut down for illegal operations on government websites and in the media.
From Aug 1 to Oct 20, there have been 178 major accidents across the country at illegal operations that resulted in 1,005 deaths, according to SAWS.
The most recent accident occurred on Wednesday morning when a coal mine flooded in Guizhou province, killing 12.
The Dapo Mine, in the city of Anshun, was operating illegally when the accident occurred, after having been ordered to suspend operations on Aug 20, according to a statement released by the local rescue headquarters on Thursday.
According to Guizhou's vice governor, Sun Guoqiang, this was "a typical accident caused by breaking production regulations and ignoring coal mine safety procedures".
The accident occurred at 7:40 am, when 50 miners were working in the shaft. Thirty-eight of them managed to escape, and one was injured.
To make matters worse, one person was electrocuted in the mine on Sept 2, about a month after the suspension order, the statement said.
The mine managers, who were trying to evade capture after the accident, were apprehended on Thursday morning, police said.
(China Daily October 29, 2010)