More Efforts Urged to Protect Wuliangsuhai Wetland
Adjust font size:
Rescue efforts on the way
A multi-step process has been undertaken to address this worsening situation, according to Yang.
The first step is reducing the pollution source. The Bayannao'er municipal government persuaded farmers to use less chemical fertilizer and pesticide, and use more plant insect-resistance breeds instead.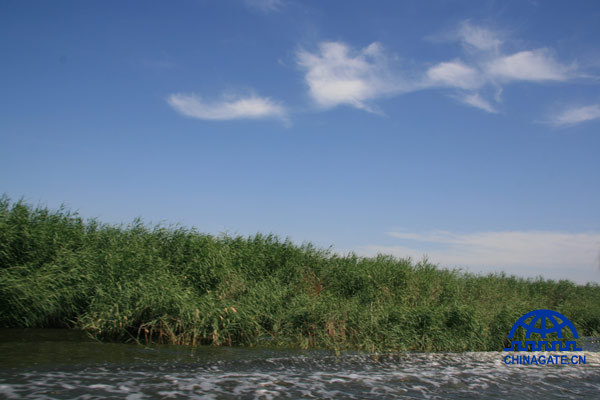 Reeds have strong cleaning effects to wasted water. [CnDG by Jiao Meng] 


Secondly, the wasted water can be purifying utilizing biological cleaning. "Reeds have strong cleaning effects to wasted water, they can decrease 30-70 percent of contamination," Yang said.
Thirdly, they are digging watercourse. It is a good method to increase water flow and decrease silts. "In fact, the silts are raw materials of biofertilizers, with natural fertility and zero pollution," he explained.
"However, more efforts should be undertaken to save this wetland," he believed, "as a Eco-industry Park , we don't have enough money and energy to treat this wetland thoroughly. For example, to completely eliminate wasted water draining, sewage treatment plants should be built in nearby towns. Obviously, it's beyond our ability."
"I wish the whole society would pay closer attention to this wetland, more and more people are able to reduce water pollution by doing small things," he hoped.