More Efforts Urged to Protect Wuliangsuhai Wetland
Adjust font size:
"The silt in lake bottom increases about 1cm per year. If we do not take any actions, this wetland will become swamp within 30 years," said Yang Lan Shuan, vice general-manager of Wuliangsuhai Wetland Eco-industry Park.
Yang Lan Shuan expressed his worries during an interview with CnDG in Bayannao'er in Northwest China's Inner Mongolian Autonomous Region on July 17, 2010.
Wuliangsuhai (Lake of Chinese tamarisk in Mongolian) is situated at Urad Front Banner, Bayannao'er. It is one of the eight largest freshwater lakes in the country with a water surface area of 253 square kilometers. It is rare to have a big multi-functional lake in a desolate and drought-stricken grassland.
Interdependent on Hetao Plain
Wuliangsuhai Lake was formed in 1850 AD, due to diversion of Yellow River. After its initial development, the waste water from farmland on Hetao Plain became the main water sources of the wetland. Correspondingly, it's the dominate water source for the farmlands nearby.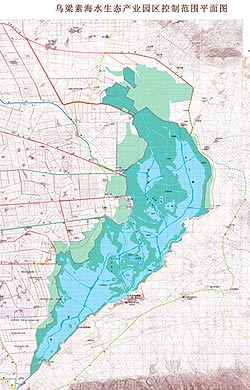 A sketch map of Wuliangsuhai wetland Eco-industry Park. [Copyright Announcement: this map is licensed to CnDG and any third party should not use it without permission.] 

The untreated waste water from farmlands that feeds the wetland contains lots of nitrogen and phosphorus.
"The eutrophication of draining water from farmland nearby has stimulated overgrowth of water plants," said Yang, "yellow green algae once broke out and caused mass mortality of fishes in the wetland."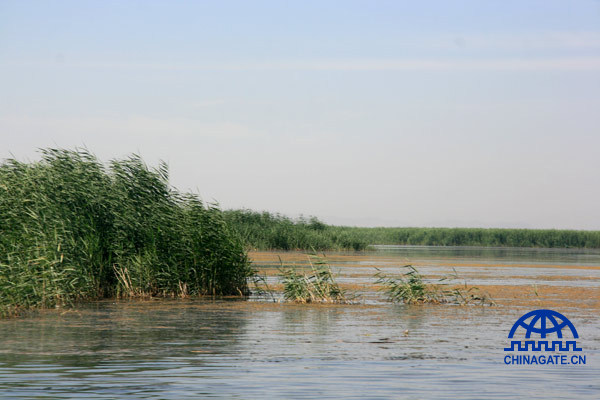 Photo taken on July 17 shows the overgrowth of water plants such as reed and yellow green algae in Wuliangsuhai Wetland. [CnDG by Jiao Meng] 

"Additionally, the humus of water plants like reed and float grass becomes silt depositing in lake bottom. It is a dangerous sign for a 2-meter-deep wetland."