Giant Pandas Make Group Debut at Park
Adjust font size: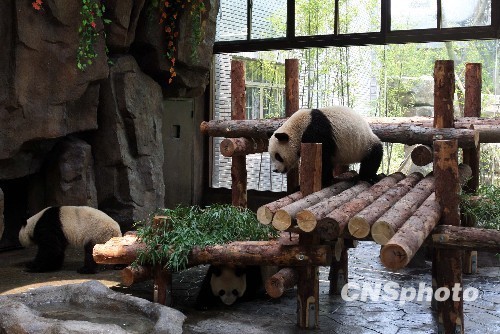 Pandas wander around Expo Giant Panda Pavilion at Shanghai Wild Animal Park on Wednesday, June 30, 2010. Fourteen giant pandas are on display when the panda pavilion opens to the public. [CNSphoto] 
Fourteen giant pandas made a public group debut at Shanghai Wild Animal Park on Wednesday, marking the opening of the zoo's giant panda pavilion, China News Service reports.
The giant panda group consisted of four old park residents, including a bear that was born in 1983 and three pandas that have a chance of being sent to Taiwan. The other 10 were World Expo pandas born after the 2008 Sichuan earthquake, which had been relocated to the park two days ago from another part of Shanghai.
A 10,000-square-meter bamboo forest had been prepared for the pandas featuring a variety of bamboo plants. The Expo Giant Panda Pavilion inside the forest was built to resemble the natural living environment of the giant pandas.
Breeders say that the 10 Expo pandas have been in good health since they were moved to Shanghai from their hometown Wolong in Sichuan Province in January. Although their recent move has affected their eating and sleeping habits, the pandas are expected to fully adapt to their new environment in a few days.
(CRIENGLISH.com July 1, 2010)