Eco Action Beijing Raises Green Hope
Adjust font size:
Students from Beijing's 2nd deaf and mute school perform a skit entitled "The Summer Night is So Beautiful". Although their pronunciations were not very clear, they still won applause from the audience. [CnDG by Jiao Meng]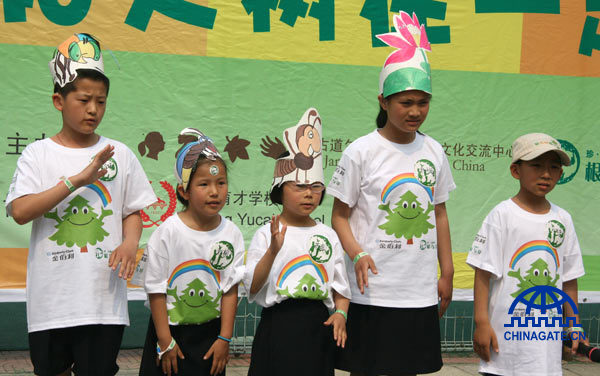 Students waving to the audience. [CnDG by Jiao Meng]


"Our team has led school children to collect discarded Tetra Pak packages for treatment plants for the past four years," a student named Mao Zekun commented on the Campaign, All Together with Trees, Saturday.
To commemorate the World Environment Day, the campaign was organized by the Beijing office of Roots & Shoots and held at Yucai School on June 5. The Campaign, which focuses on the protection of trees, is the theme of this year's Eco Action Beijing movement.
In an effort to arouse public awareness concerning environmental protection, the campaign invited R&S teams from eight schools in Beijing to share their experience in protecting trees.
Children displayed their self-made eco-friendly inventions, forest models, etc. They also performed self-written skits which evoked great praise from the audience. Then, every participant was able to vote for their favorite R&S team.
The activities concluded with an outdoor adventure game organized by volunteers from China University of Mining and Technology and Capital Normal University. After the students were divided into four groups, they rushed to look for the targets shown in photos and finish different tasks, such as measuring a tree's circumference and observing the tree's ecological environment.
"We encourage children to observe, think and take initiative in protecting the environment and incorporating a green lifestyle in their daily routine," said Lv Chao, an officer from R&S Beijing office.