Priceless Relics Will Be Restored
Adjust font size:
The post-quake scene of a ruined temple in Gyegu township of Yushu County, northwest China's Qinghai Province on April 19, 2010. [Xinhua]
Rescue chiefs in northwest China's Qinghai Province Monday ordered local authorities to assess damage to historic and cultural relics damaged in last week's devastating quake and to draw up plans for their restoration.
The Culture, Press and Publication Department of Qinghai Province and the government of Yushu Prefecture were required to set up a team to assess the damage, said Wang Jianping, vice director of the department.
The 7.1 magnitude earthquake that struck Yushu Prefecture, Qinghai Province, on April 14 has left 2,039 people dead, with 195 others still missing by 10:00 PM Monday, the rescue headquarters said. The quake has also seriously damaged historical and cultural sites.
The State Administration of Cultural Heritage was also considering sending experts to assess the damage and make restoration plans, said Wang.
The Xinzhai Mani Pagoda, a national cultural heritage site, was 40 percent destroyed, and the remaining 60 percent was on the verge of collapse, said Wang.
The Gyanak Mani Stone Mound in Yushu County, world's largest Mani stone pile, also collapsed in the earthquake.
Mani stones are stone plates and rocks inscribed with Lamaist mantra prayers or other propitious symbols of Tibetan Buddhism. They are usually placed along roadsides and rivers, or piled up to form mounds or long walls.
The Mani stone mound is an important holy site in Yushu County, where 97 percent of the population are Tibetan.
Local Tibetans have already started to restack the Mani stones while the government concentrated on saving lives.
Established in the 1700s, the Gyanak pile has more than 2 billion Mani stones, and is growing as Tibetan pilgrims put more stones on it.
So far, it was not clear how many and how badly relics in the quake-hit region have been damaged.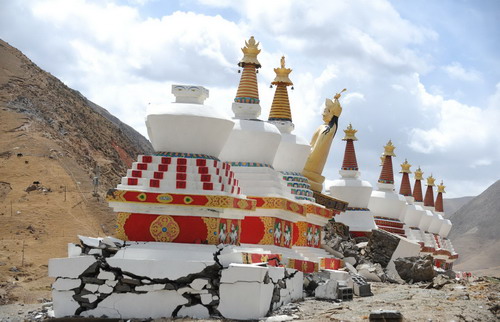 Collapsing temple constructions in Gyegu township of Yushu County, northwest China's Qinghai Province on April 19, 2010. [Xinhua]