Gathering Marks Int'l Women's Day
Adjust font size:
More than 1,000 women from China and abroad attended a reception in Beijing on Monday to commemorate the centennial International Women's Day.
Organized by the All-China Women's Federation (ACWF), the reception invited women guests from all walks of life, such as major Chinese leaders, foreign journalists and ambassadors.
Chen Zhili, ACWF's president and vice chairwoman of the standing committee of the National People's Congress, delivered a speech recounting the 100-year history of the women's movement.
"March 8 International Women's Day witnesses a century's accomplishments that women of the world have achieved in their pursuit of equality," Chen said. "Many dreams that once appeared so remote are now reality, e.g., literacy of women, women's right to vote, women's participation in state governance and social affairs and women as creators and owners of wealth."
Chen also pointed out that obstacles affecting women's progress are far from being completely eliminated. Poverty, diseases, discrimination and prejudice still constrain the full realization of gender equality.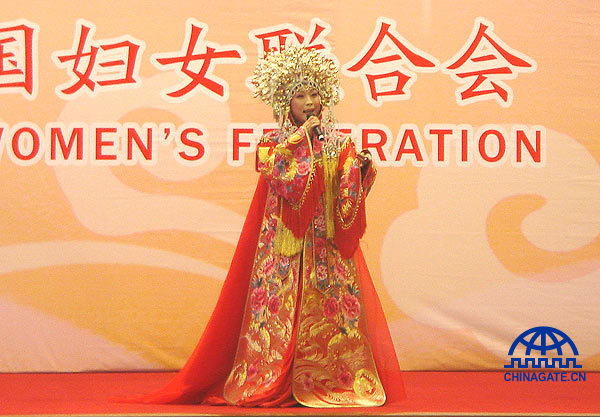 Actor Li Yugang performs the traditional Peking opera Drunken Beauty. He is disguised as a famous ancient princess and imitating a woman's voice and behavior. [China Development Gateway by Jiao Meng] 


The reception also included operatic solos, acrobatics and dance performances.