Chinese Aircraft Delivers Aid to Quake-hit Chile
Adjust font size: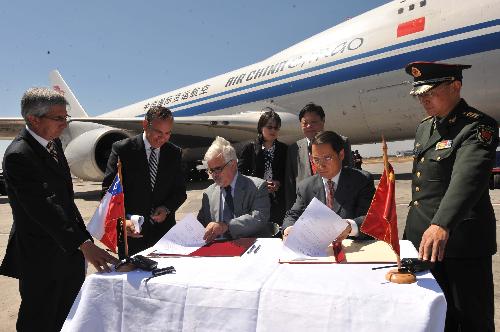 Chinese Ambassador to Chile Lu Fan (2nd R) and a Chilian official (3rd R) sign on the documents about the aid goods at the airport in Santiago, capital of Chile, March 5, 2010. A Chinese plane carrying US$2 million worth of aid goods arrived. [Xinhua]
A Chinese plane carrying US$2 million worth of aid arrived in Chile's capital Santiago at about 1:34 PM local time on Friday.
The Boeing 747-400 from the Air China cargo fleet was carrying 10,000 blankets, 700 tents, 100 generators and two water purification facilities, with a total weight of 90 tons. The aid materials were collected within just one day from several Chinese cities including Beijing, Shijiazhuang, Nanjing, Weihai and Suzhou, thanks to the mobilization and coordination by the Chinese Foreign Ministry, Defense Ministry and other government agencies.
On Feb. 27, Chile was hit by an earthquake measuring 8.8 on the Richter scale, which has killed at least 279 people.
Chinese official sources said this shipment of aid covered the longest geographical distance in China's history of emergency external aid. It is also the first time that China has sent a cargo plane to South America carrying aid materials only.
China sent 40 army-trained earthquake rescue workers to Haiti in January in the wake of the Caribbean nation's Jan. 12 quake, which may have killed as many as 300,000 people. Two weeks later, it also sent in a 40-member medical team to help the quake-ravaged country.
In the Chilean quake, Constitucion, a port town in the central Maule region, was hit worst with 80 confirmed deaths. However, the nation's second largest city, Concepcion, had a security crisis following the temblor, with mob raids on homes and shops triggering a dusk-till-noon curfew.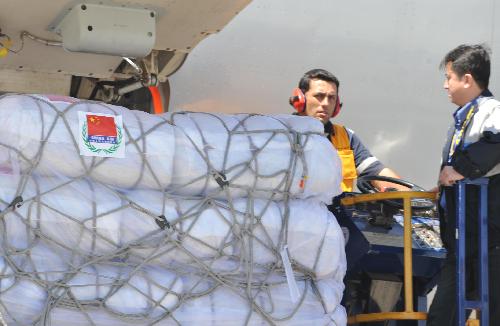 Stuff prepare to unload the aid goods off an aircraft from the Air China cargo fleet in Santiago, capital of Chile, March 5, 2010. A Chinese plane carrying US$2 million worth of aid goods arrived in Santiago on Friday. [Xinhua]