Draft Law: Ban Dog Meat
Adjust font size: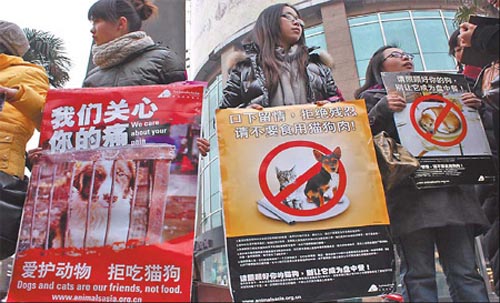 Environmentalists in Wuhan, Hubei province, stage a demonstration against the habit of eating dogs, holding placards that read "dogs and cats are our friends, not food". [China Daily]
Fine of up to 5,000 yuan and 15 days' detention proposed for those found guilty.
A proposed draft of China's first law on animal welfare prohibits the consumption of dog and cat meat, with a fine of up to 5,000 yuan (US$730) and up to 15 days' detention for the guilty.
Organizations or units found guilty of selling the meat can be fined anywhere between 10,000 yuan to 500,000 yuan, according to the proposed draft law that is being drawn up by a panel of legal experts, the Beijing-based Mirror Evening News reported.
"There are still many difficulties to overcome before (legislators) include the article against consumption of dog and cat meat into the draft law," Chang Jiwen, a researcher with the law institute under the Chinese Academy of Social Sciences, who headed the panel, was quoted as saying.
"I hope the problem can be solved as soon as possible, although it will be solved sooner or later," he said.
The prohibition would not affect the common Chinese citizen's life a lot, Chang said. With an improving living standard, very few people still eat dog or cat meat in China, he said.
Though most Western cultures view the consumption of dog or cat meat as a taboo, the practice has been considered a cultural tradition for those living in China's southern provinces like Guangdong and Jiangxi, as well as northeastern provinces neighboring the Republic of Korea and the Democratic People's Republic of Korea, where many believe dog or cat meat generates heat and helps the human body stay warm during winter months.
The proposed draft has sparked a fierce debate.
"I don't know what we'll do if the law is passed. A majority of our customers eat dog meat as a habit," said Tian Zhiqing, a waitress at the Dog Meat King restaruant in Beijing's Xuanwu district.
The restaurant, which has been in operation for 12 years, generates a monthly business of nearly 300,000 yuan, she said.
"Besides stewed dog meat hotpot, too, is extremely popular here."
Wang Yan, a staff member at the Beijing-based Association of Small Animal Protection, said: "Cats and dogs are human beings' friends. We are always opposed to eating such animals. Those who eat them must definitely be punished."
More than 52 percent of respondents in an online poll felt the practice of eating dog and cat meat should be banned, while some 33 percent opposed the implementation of such a ban.
The survey on Sohu.com, a major Chinese portal, had attracted more than 100,000 votes as of Tuesday.
More than 48 percent were in favor of fining or punishment of those found guilty of eating dog or cat flesh, while nearly 45 percent were against punishment.
Chang said the proposed draft, which focuses on preventing animal mistreatment, protects six categories of animals -- those on farms, in laboratories, pets, working animals, animals for entertainment purposes, and wild animals.
Since last September, the panel has publicized the proposed draft law for soliciting public opinion and received nearly 800 e-mails and phone calls, suggesting revision.
The panel decided to change the proposed draft's name to Law on Anti-cruelty to Animals because many said they could not accept the original name: Animal Protection Law.
The proposed draft will be submitted to relevant government departments in April. Citizens are still welcome to send suggestions to changjiwenlaw@yahoo.com.cn, Chang said.
Before being adopted as a law, the draft must go through the State Council and then receive three readings at the National People's Congress Standing Committee, the top legislature.
The draft is not included in the legislative agenda (2008-2013) released by the top legislature, indicating it might be a few years before it is adopted as a law.
(China Daily January 27, 2010)