China Mourns Victims of Nanjing Massacre
Adjust font size: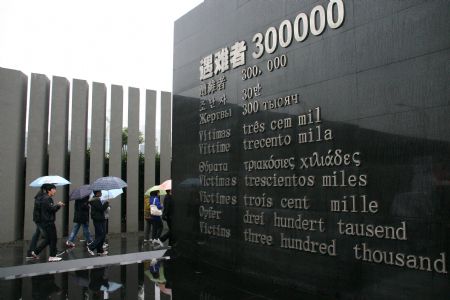 People come to the Nanjing Massacre Memorial Hall to mourn the victims of the Nanjing massacre committed by Japanese invading troops during World War II, in Nanjing, capital of east China's Jiangsu Province, December 12, 2009. December 13, 2009 is the 72nd anniversary of the Nanjing massacre, which left 300,000 Chinese people dead. [Xinhua]
Thousands of Chinese and foreigners gathered Sunday to mourn people killed by invading Japanese troops 72 years ago in the Nanjing Massacre.
Siren sounded at 10:00 AM as 5,000 people gathered on the square in front of the Memorial Hall of the Victims in the Nanjing Massacre, mourning the dead in silence and presenting wreaths.
Later the bell tolled as the crowd prayed for world peace.
Zhang Jiuhan, vice chairman of Jiangsu Committee of the People's Political Consultative Conference, said the rally aimed at helping taking history as a mirror and preventing history from repeating.
"China and Japan should keep friendly relations for generations and cooperate for mutual benefits. This is in line with the fundamental interests of the two peoples."
Chinese and Japanese monks also held a religious assembly Sunday in Nanjing, capital of the eastern Jiangsu province, to mourn victims of the Nanjing Massacre.
About 30 Japanese monks, 50 Chinese monks and buddhism believers and 30 massacre survivors also prayed for world peace at the assembly.
"It's a very sad day," said Zhao Bin, a survivor. "On the anniversary each year, I miss very much the relatives and others killed cruelly by Japanese invaders."
"History should not be allowed to repeat," the 72-year-old said.
Sunday is the 72 anniversary of the Nanjing Massacre.
Japanese troops occupied Nanjing on December 13, 1937, and launched a six-week massacre. Chinese records show more than 300,000 people, not only disarmed soldiers but also civilians, were killed.
There are evidence items in the Memorial Hall of the Victims in the Nanjing Massacre as proof of the Japanese invaders' atrocity during World War II.
The latest evidences include photos about scenes of the damaged Nanjing city and slaughtered citizens and also a copy of Japanese newspaper carrying report of Japanese aircraft bombing Nanjing.
The donator was a Japanese man surnamed Ohigashi, said Zhu Chengshan, curator of the memorial hall, adding he had earlier donated more than 1,000 evidence items.