Energy-saving Bulbs Light up Beijing
Adjust font size: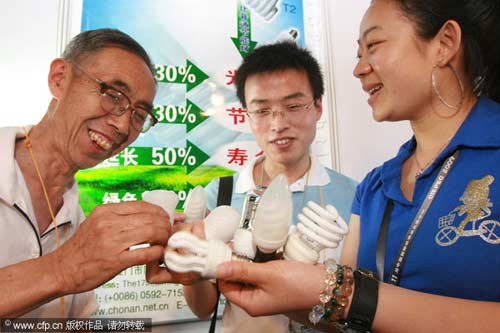 [Chen Xiaogen / CFP]
Energy-saving bulbs have become the choice for many Beijingers, thanks to local government subsidies, the Beijing Youth Daily reported last week.
Energy-saving bulbs produced by famous brands occupy important places on shelves in supermarkets and lamp stores. Eight out of 10 people now choose energy-saving bulbs in several big lamp markets. Some retailers even plan to cancel their incandescent bulb orders. In the past, incandescent bulbs made up 70 percent of the market shares.
Beijing piloted the "1-yuan (US$0.2) Energy-saving Bulbs" program last June. The city government paid tens of millions of yuan to promote the high-efficiency lighting products in households of four districts. For an energy-saving bulb that originally costs 10 yuan (US$1.5), the government subsidized nine yuan (US$1.3), and the citizens paid for the remaining one yuan.
Currently, 5 million energy-saving bulbs have entered local people's homes. These bulbs can save 200 million kilowatt hours (kWh) of electricity and 120 million yuan (US$ 18 million) in electricity fees a year, according to the Beijing Development and Reform Commission.
The government subsidies have changed citizens' consumption priorities. A salesman at the North Fourth Ring Lamp Market told Beijing Youth Daily that few people buy incandescent bulbs now, even though they cost only two (US$0.3) to three (US$0.4) yuan a piece.
The service time of an energy-saving bulb is four to six times longer than an incandescent bulb and it saves people's money. The brightness of a nine watt (W) energy-saving bulb equals a 40 W incandescent bulb. People can save 1 yuan in electricity fees for every 64 hours that an energy-saving bulb is used.
Statistics from Carrefour show that the brands of energy-saving bulbs sold at the supermarket are as many as two times that of the incandescent ones. The sales volume of energy-saving bulbs this year has increased 50 to 70 percent, as compared to the same period in 2008.
Beijing IKEA Home Furnishings' manager told Beijing Youth Daily that IKEA will further increase the sales proportion of energy-saving bulbs from next month and will cancel incandescent bulb orders in September 2010.
"Eighty percent of retailers are promoting the energy-saving bulbs today. Many companies that produced incandescent bulbs in the past are beginning to produce the energy-saving ones now," said Chang Yi, secretary general of Beijing Lighting Equipment Association.
The city plans to promote another 10 million energy-saving bulbs for households and public buildings this year, and carry out stimulus measures to encourage citizens to exchange the used incandescent bulbs for energy-saving ones, according to the Beijing Development and Reform Commission.
(China Development Gateway by Sun Wan August 26, 2009)