US Energy Chief Wraps up China Tour
Adjust font size:
US Energy Secretary Steven Chu on Friday concluded his four-day China trip after visiting a clean energy company and a university.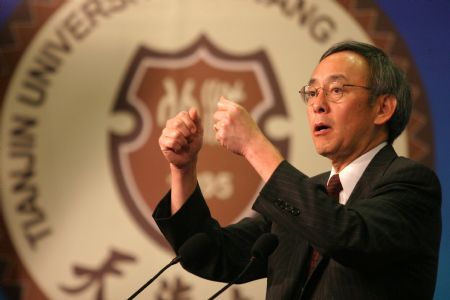 United States Energy Secretary Steven Chu gives a speech on energy and climate at Tianjin University in Tianjin, north China, July 17, 2009. [Xinhua]


Early Friday morning, Chu traveled to Langfang, a town 60 kilometers southeast away from Beijing, for a tour to ENN Group that is committed to the clean energy production and application.
Chu then went to Tianjin University where his maternal-grandfather Li Shutian served as president in the 1930s and 1940s. Chu gave professors and students an address on clean energy and climate change.
Chu and US Commerce Secretary Gary Locke arrived in Beijing on Tuesday for their first visits to China since becoming cabinet members of the Obama administration.
"I am greatly encouraged by what I saw on this trip," Chu told reporters Thursday evening.
Chu said Chinese leaders agreed unanimously that global warming was "a very serious problem."
During his visit, Chu witnessed the establishment of a China-US joint clean energy research center, with both committing initial financing of US$15 million.
The center will help "share the understanding of how to make more efficient buildings, how to make more efficient cars and how to capture carbon dioxide," Chu said.
Chu said both countries recognized that fighting climate change is a long journey. "Now it is just beginning of the long journey."
(Xinhua News Agency July 18, 2009)