Young Chinese Facing Sweet Burdens
Adjust font size:
Zhang Ying has decided to return to China from the United States next year, not because of the financial crisis, but to better care for his parents.
The 30-year-old associate professor at the University of Texas-Austin has been away from home for eight years. But as an only child, he felt he had to fulfill his duty and look after his aging parents.
"My father will turn 60 next year and I must be around when they need me," he said yesterday.
"I have to give up my career in the US and find a job in China."
Zhang is one of millions of young Chinese people who feel pressured to take care of their parents.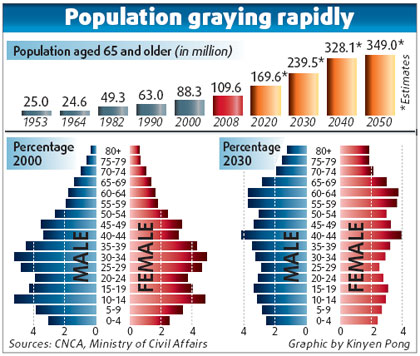 These young people were born into only-child families in the late 70s and early 80s under the national family planning policy and they now face the task of looking after two parents due to traditional filial piety as well as inadequate public services for aging people.
A recent survey published by China Youth Daily found that nearly 70 percent of these young people feel incapable of taking good care of their parents because of pressures they face at work.
The poll of 3,144 people born after the late 70s and early 80s found that 51.3 percent felt it was a big burden as an only child to care for two parents.
The China National Committee on Aging found that in 2007, there were about 100 million people older than 65 -- 8.1 percent of the population.
Estimates show that the number of older Chinese will rise from 109.6 million last year to about 349 million by 2050.
But the current pension system is poorly established and over 70 percent of the citizens are not covered, the Report on Strategy of Social Security System Reform in China found.
There also is a lack of public services for the elderly. About 33 million elderly people are unable to care for themselves but there are only 40,000 social welfare institutes, with about 2.8 million beds, said Yang Tuan, researcher at the Center of Social Policy of Chinese Academy of Social Sciences.
What this all means is that it is falling to the younger generation to provide the financial support and physical and emotional care for their elders.
But many young people work far away from their hometowns in big cities and do not have much spare money or time to look after their parents.
"My son works in Fuzhou and he can only visit me once in a year," Liu Shifang, a retired worker in Chongqing, said on Sunday.
"He is facing huge financial burden to buy a flat there, so we do not expect him to give us money."
On the contrary, the parents have been saving money for their son for years to help him settle down in the coastal city.
The research also found that more than half planned to live with their parents to provide the best possible care.
"I do feel the pressure to care for my parents in the future but I am not going to send them to a nursing home for elderly people," said Shu Wu, a 30-year-old director of business development in Beijing.
More than 90 percent of nursing homes in the country are privately owned and some sociologists have said the government should encourage more private investment in nursing-home projects.
"The government should give subsidies to the nursing homes according to the number of the elderly people and the service quality," said Du Peng, director of the Research Institute of Gerontics from Renmin University of China.
(China Daily June 29, 2009)