Initiative works to offset impact of global crises
China Daily, April 29, 2022

Adjust font size: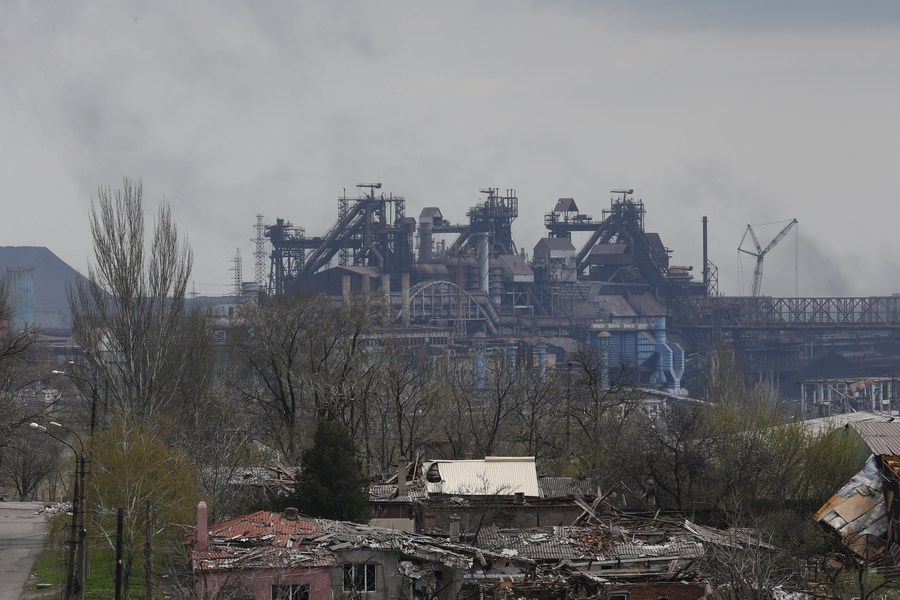 Photo taken on April 22, 2022 shows a view of the Azovstal plant in the port city of Mariupol. [Photo/Xinhua]
More countries look to China to help keep growth afloat amid downturn
Amid the Ukraine crisis and an economic downturn catalyzed by sanctions and the COVID-19 pandemic, an increasing number of countries, policymakers and international organizations are looking to further work with Beijing on the Global Development Initiative in order to offset multiple impacts and keep global growth afloat.
First put forward by President Xi Jinping in September last year, the initiative includes eight priority areas for global teamwork-poverty alleviation, food security, COVID-19 response and vaccines, development financing, climate change and green development, industrialization, digital economy and connectivity.
The Global Development Initiative has been supported by the United Nations and other international organizations, and "China is working with the international community on the solid implementation of the GDI", Xi said at the opening ceremony on April 21 of the Boao Forum for Asia Annual Conference 2022.
Speaking of the impact brought by the Russia-Ukraine conflict, UN Deputy Secretary-General Amina Mohammed warned on Monday that "many developing countries are reeling from the crippling effects of an uneven recovery from the COVID-19 pandemic", and "the war in Ukraine is now sending shock waves through global food, energy and financial markets".
Earlier this month, both the International Monetary Fund and the World Bank cut their respective global growth projections for 2022.
Indian Finance Minister Nirmala Sitharaman warned on Wednesday that unintended consequences brought by the sanctions have an "immediate and strong impact on countries in this digitally connected world".
Siddharth Chatterjee, UN development system resident coordinator in China, said the Global Development Initiative "holds great potential to help the world recover from the recent setbacks and accelerate the realization of the Sustainable Development Goals".
"The UN system will always welcome any initiative from the member states to mobilize resources and boost support for internationally agreed development agendas," he added.
As the Ukraine crisis and related sanctions have dampened global prospects on inflation, supply chains and food security, and are worsening the wealth disparity among nations, the Chinese initiative meets the dire needs of developing countries at the moment to keep economies and people's well-being afloat, according to officials and scholars.
Hegemony-driven moves such as imposing sanctions, cutting supplies, decoupling and using economy, finance, science and technology as weapons "disturb global economic order, distort global market mechanisms, obstruct global technological advance and disrupt global production and supply chains", said Wu Hailong, president of the China Public Diplomacy Association.
"Given the spillover effect of the Russia-Ukraine conflict, global development is faced with increasing difficulties", and development is the master key to resolving various problems, Wu told a webinar on April 19.
Wang Chao, president of the United Nations Association of China, warned that some countries incite ideological confrontations, engage in exclusive cliques and achieve their own development at the cost of other countries' development, which "will only widen the global development gap and affect the global governance process".
In contrast, the Global Development Initiative lives up to the trend of global development and echoes the international community's shared hope to achieve the UN's Sustainable Development Goals, Wang said.
Rebecca Ivey, chief representative officer of the World Economic Forum's China Office, said the initiative "is a timely call for action to address the immediate challenges that threaten our collective ability to deliver on the Sustainable Development Goals in just eight years' time".
"Disasters such as the COVID-19 pandemic, climate action failure and the conflict in Ukraine show us that lack of global collaboration and multilateralism are the true barrier to overcome, not the technological or adaptive challenges," she said.
Ivey singled out some of the Global Development Initiative's priority areas that call for greater global cooperation-COVID-19 response and vaccines, climate change and green development, digital economy and connectivity.
"We applaud China's effort to make vaccines a global public good by contributing to existing global multilateral mechanisms-a $100 million pledge to Gavi COVAX and continuous commitments to assist at least 53 countries with vaccines," she said.
As a sign of its growing popularity, the Global Development Initiative has been endorsed by the outcome documents of key events such as the eighth ministerial conference of the Forum on China-Africa Cooperation and the third Ministerial Meeting of the Forum of China and the Community of Latin American and Caribbean States, said Wang, the United Nations Association of China president.
In January, China's permanent mission to the United Nations launched the Group of Friends of the Global Development Initiative to gather interested UN member states and work on strengthening policy dialogue, sharing best practices and promoting practical cooperation.
So far, more than 100 countries have expressed their support for the initiative, and more than 50 countries have joined the Group of Friends of the Global Development Initiative, State Councilor and Foreign Minister Wang Yi said on Monday.
Shirley Ayorkor Botchwey, Ghana's minister for foreign affairs and regional integration, said that after the outbreak of the COVID-19 pandemic, African countries have realized more clearly that the world is unfair, development is unbalanced, and China is Africa's true and reliable friend.
China's development has provided highly beneficial inspiration for African countries, she told Wang Yi in a phone talk earlier this month.
Zhang Yuyan, director of the Chinese Academy of Social Sciences' Institute of World Economics and Politics, said, "The world is still faced with deficits in four areas-peace, development, governance and trust-and eliminating these deficits requires joint efforts of all countries."
"While many countries are working hard to offer international public goods, some other countries are still following unilateralism and obsessed in exercising long-arm jurisdiction, adding obstacles to global efforts. That's why we urge the realizing of true multilateralism," Zhang said.