Draft law to protect fertile black soil
CHINA DAILY, April 27, 2022

Adjust font size: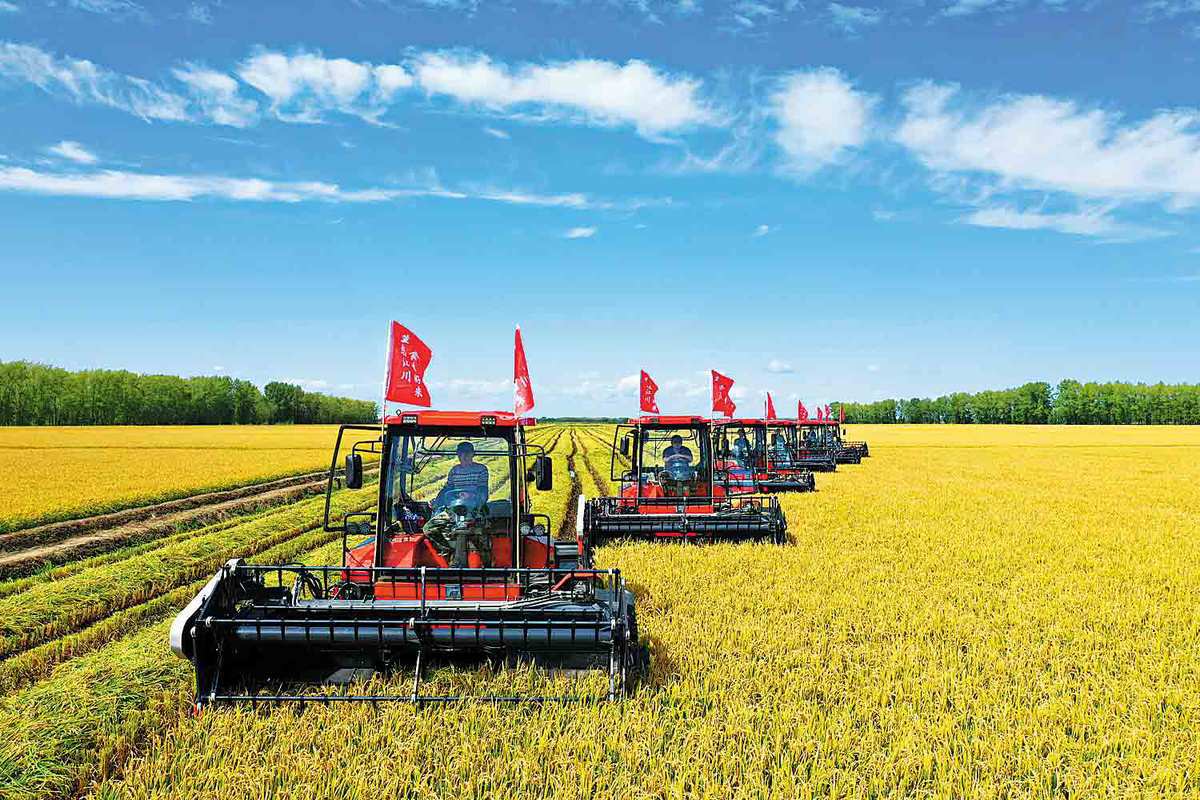 Combine harvesters are used to harvest rice on farmland belonging to the Beidahuang Agricultural Reclamation Group. CHINA DAILY
A draft revision of the Law on the Protection of Black Soil has highlighted the role black soil plays in safeguarding national food security and the importance of strengthening punishment for violating related regulations.
It was submitted to the Standing Committee of the National People's Congress for second review during a session held from April 18 to 20 in Beijing.
The draft revision added that black soil should be used in the production of grain, sugar, oil crops, vegetables and other agricultural produce. Fertile black soil is to be designated for permanent basic cropland and mainly used for grain production, according to the revised draft.
The black soil in Northeast China is rich in humus-an accumulation of organic carbon-and the region accounts for a quarter of China's grain output, according to a white paper released by the Chinese Academy of Sciences.
However, unscientific cultivation and tillage, as well as climate change, have caused degeneration of the soil, it added.
The draft stipulates that those who illegally dig up black soil should be severely punished, and it increased the maximum fine for illegally selling black soil from 3,000 yuan to 5,000 yuan ($468 to $780).
Yin Fanglong, a member of the NPC Standing Committee, said during the group review of the second draft that he noticed some of the black soil dug up from Northeast China was sold for as little as from between 30 yuan to 50 yuan a truckload.
The black soil from Heilongjiang and Jilin has been found used in the vegetable patches of urban residents, and the soil can be found for sale online for as much as 1 yuan per gram. Yin suggested prohibiting the buying and selling of black soil to protect resources and break the profit chain.
China will complete the protection of 6.67 million hectares of black soil during the 14th Five-Year Plan (2021-25) period.
Returning maize straw to farmland in Northeast China in the form of mulch has proved effective in protecting black soil and improving its quality.
The protective cover of 5.33 million hectares of black soil will be finished in Heilongjiang province this year, the Ministry of Agricultural and Rural Affairs said.
The acreage of protective farming is expected to account for 70 percent of the total tillage in Northeast China by 2025, it added.
Heilongjiang has set up 2,480 monitoring stations to collect data on soil conditions such as its quality and health, providing scientific evidence for improving its fertility, according to the local agriculture bureau.