Chinese dancer explores art by reading
Xinhua, April 24, 2022

Adjust font size: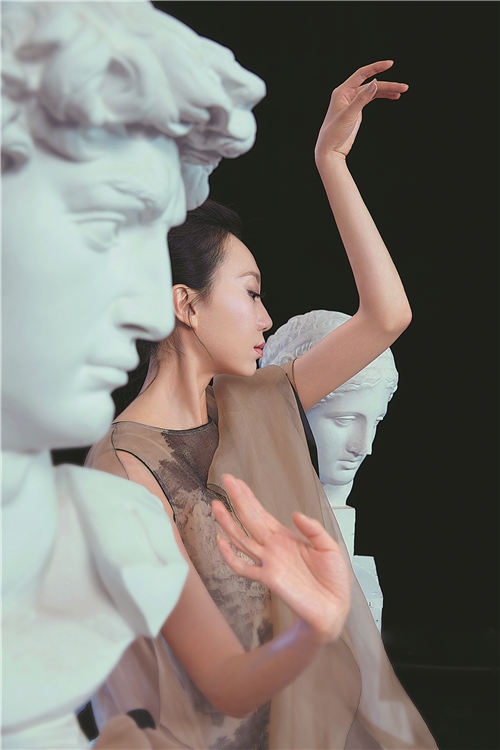 Despite her busy schedule of taking classes, training and doing rehearsals, Liu Yan has kept the habit of reading. [Photo provided to China Daily]
Chinese dancer-choreographer Liu Yan's onstage journey started when she was a little girl.
At age 10, Liu stood out among her peers and was enrolled in the middle school affiliated to the Beijing Dance Academy. Before she left her hometown in the Inner Mongolia autonomous region, her father, who is a judge, told Liu to develop more interests like reading rather than a singular passion, dancing.
"My parents took turns taking long train rides to Beijing to be with me during weekends back then. When my father came to Beijing, he would take me to the National Library of China near the Beijing Dance Academy," says Liu. "We also read together and exchanged ideas about books."
One of the books they read then was Cheng Yu Ci Dian (Dictionary of Chinese Idioms), which inspired Liu.
"You may think reading a dictionary is boring but it's not true. Chinese language is rich in idioms, representing thousands of years of wisdom and experience. There are lots of small and interesting stories, which introduce and explain the idioms. They are full of imagination. The stories feature various people like emperors and generals, as well as animals, mythical creatures, adventures, love stories and other elements relevant to the people of the time," says Liu.
Now, she reads the book for fun and likes to share what she has learned. "It allows you to look back at ancient China and understand the people and culture that gave birth to the idioms."
Known for her solid techniques and expressive interpretation of Chinese classical dance, Liu was enrolled in the Beijing Dance Academy at age 18. She has won many dance competitions in China and is considered one of the country's top Chinese classical dancers.
Despite her busy schedule of taking classes, training and doing rehearsals, Liu has kept the habit of reading, even after an accident in 2008, when she severely injured her vertebrae during a rehearsal for the opening ceremony of the Summer Olympics in Beijing that year. The accident left her paralyzed below the waist, and she had to bid farewell to the stage and adjust to life in a wheelchair.