Draft focuses on youth myopia rates, obesity
Xinhua, April 24, 2022

Adjust font size: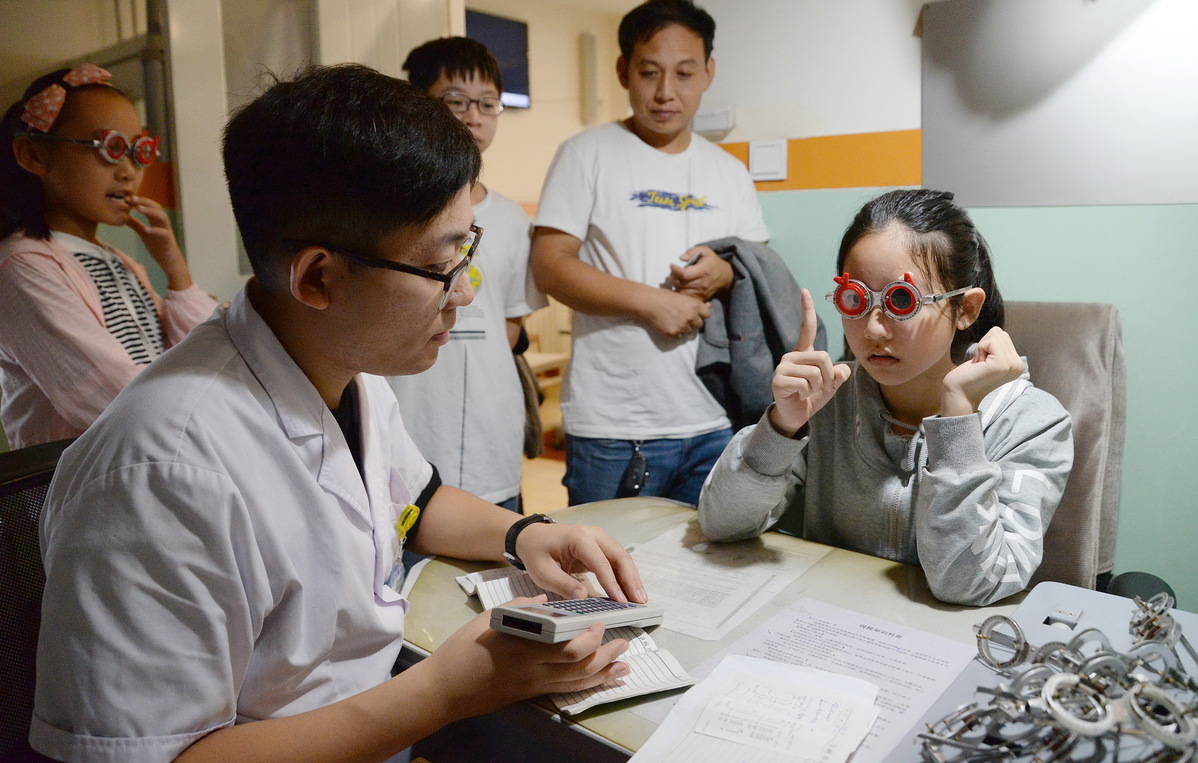 A primary school student gets a vision test in Handan, Hebei province, during the summer holiday in 2020. [Photo by Hao Qunying/For China Daily]
Education and sports authorities, schools and parents should encourage young people to participate in sports to help mitigate the incidence of myopia and obesity among them, according to a draft revision.
The draft revision of China's Law on Physical Culture and Sports has been submitted to the ongoing session of the National People's Congress Standing Committee, China's top legislature, for a second reading. A draft generally becomes a law after being deliberated three times.
According to the Ministry of Education, the incidence of myopia among schoolchildren has increased to 52.7 percent in 2020 due to the increased usage of digital devices and fewer outdoor activities as a result of the COVID-19 epidemic, up from 50.2 percent in 2019.
The incidence of myopia among schoolchildren should be reduced by 0.5 of a percentage point every year on the basis of the 2018 level, according to a guideline issued by the Ministry of Education, National Health Commission and six other departments.
According to the National Health Commission, almost 20 percent of people between the ages of 6 and 17 were classed as overweight last year, and almost 10 percent of children under 6 were overweight.
The draft said that schools should provide enough physical exercise as required in the national curriculum and physical education classes should not make way for other academic subjects.
Schools should make sure that students participate in at least one hour of physical exercise every day. They should hold at least one sports activity each academic year, and the country should hold nationwide athletic events for students at regular intervals.
The draft also stressed that schools should be equipped with sufficient facilities and qualified PE teachers.
Schools should also arrange appropriate sports activities for students with disabilities, and they should consider the students' physical conditions while evaluating their PE skills, the draft added.
Xiong Bingqi, director of 21st Century Education Research Institute, said although various laws and regulations have stipulated that primary and secondary schools should have a certain amount of PE courses, they have not been strictly implemented.
While the Ministry of Education has required schools to ensure at least one hour of physical exercise per day, local education authorities have not held violators accountable, as they only value the student enrollment rate to higher-level reputable schools, he said.
Local governments should get rid of their over-emphasis on students' enrollment rate to good universities and pay more attention to promoting students' overall development, he added.