Global youngsters present AI solutions at U&AI Youth Bootcamp
p.china.org.cn by Yan Bin, November 18, 2021

Adjust font size: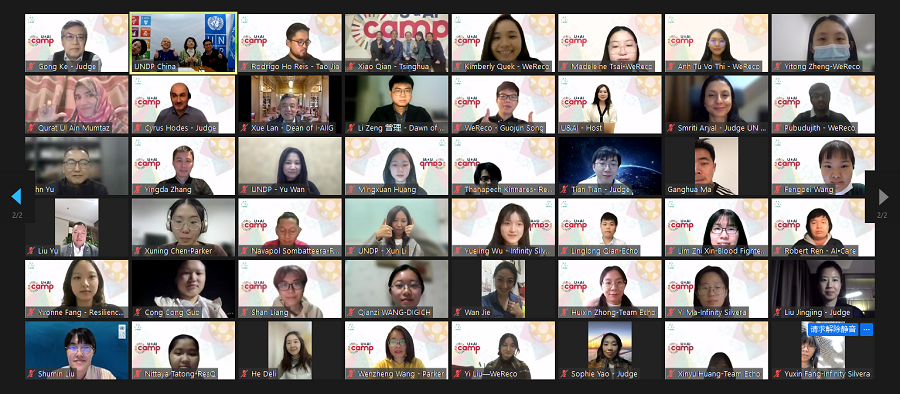 Group photo of 14 teams from all over the world and the judge panel taken on the online final competition of U&AI Camp on Nov. 16, Beijing, capital of China. [Photo courtesy of the organizer]
Global youth from 14 teams put forward innovative AI solutions for advancing theSustainableDevelopmentGoals (SDGs) on Tuesday, in Beijing, capital of China.
Launched in June this year by TsinghuaUniversity and United Nations Development Programme (UNDP), the bootcamp reached its climax at Tuesday'sonline finals, whereparticipating teams, over the course of two hours, presented theirAI-based proposals to address global challenge such asgender equality, food-waste reduction, biodiversity protection, and climate change.
Thebootcampattracted over 1,300 youths from more than 50 countries and regions around theworld.
"I am delighted to see that the bootcamp has brought together teams made up of different nationalities, cultures, religions to work on solutions to some of the world's biggest problems," said Beate Trankmann, UNDP Resident Representative in China.
Yang Bin, vice president of Tsinghua Universitycommended the young generation's involvement in AI. "Today's youth are standing at the forefront of the future of AI development, and they are the torchbearers for advancing progress towards the sustainable development goals with AI," he said.
In the final competition, a team called"WeReco" wonthe first prize. The team introduced their design of an e-commerce mobile app platform that directs users to recyclable, degradable, reusable and eco-friendly products, thereby promoting responsible production and sustainable consumption activities.
The runner-up, Aket, provided a digital solution to the food waste problem by their self-designed WeChat mini app called Taojia, linking suppliers with food near its expiration date with individual consumers in the vicinity.
Coming in third was AI Care,an undergraduate student team with a proposal to improve elderly health by long-term behavior monitoring enabled by real-time analysis using computer-vision.
In addition to the overall winners, two special awards were also given out. The "Most Innovative Award" went to the team Lumos that proposed a smart video editing platform for the visually impaired, while the "Global Collaboration Award" was awarded to Dawn of Future, a team with members from Pakistan, China, Germany, and Bangladesh.
Prior to the finals, the 14 teams went througha five-monthperiod oftraining sessions, competition rounds and assessment, led by top thinkers and practitioners from the academia, tech industry and international organizations.
The U&AI Camp's winning teams will have the opportunity to present their proposals at the Tsinghua University International AI Cooperation and Governance Forum 2021, which will be held from Dec. 4 to 5.