China, Mongolia pledge to enhance cooperation
Xinhua, October 14, 2021

Adjust font size: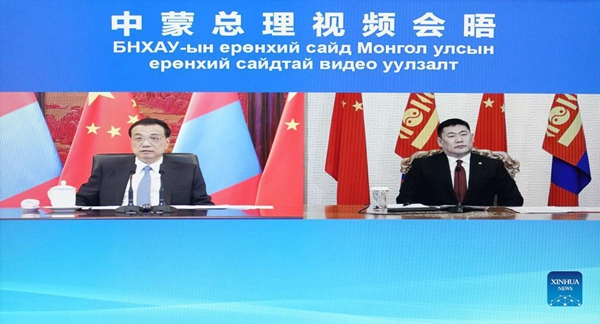 NANCHANG, Oct. 13 (Xinhua) -- A white crane was spotted on Tuesday in Yugan County, east China's Jiangxi Province, marking the start of the species' winter at Poyang Lake this year.
According to the Yugan station of the Poyang Lake National Nature Reserve Administration Bureau, the crane was foraging without a companion when staff spotted the animal through binoculars.
The first bird landed approximately two weeks earlier than last year most likely due to the cold current, according to the station staff.
White cranes are also known as "living fossil" birds, with only about 4,000 living around the world. When autumn ends every year, they fly to the lake for the winter, mainly foraging in shallow water. From late February to early March the following year, large flocks begin to fly northward.
Poyang Lake is an important wintering area for waterbirds in Asia. Each year, hundreds of thousands of birds from Russia, Mongolia, Japan and the Democratic People's Republic of Korea, as well as China's northwest and northeast regions, winter at the lake.
With a surface area of over 3,200 square kilometers, the lake usually hosts up to 700,000 wintering birds every year.Chinese Premier Li Keqiang meets with Mongolian Prime Minister Luvsannamsrai Oyun-Erdene via video link in Beijing, capital of China, Oct. 12, 2021. [Photo/Xinhua]
Chinese Premier Li Keqiang met with Mongolian Prime Minister Luvsannamsrai Oyun-Erdene via video link on Tuesday.
Noting that China and Mongolia are close neighbors with sound relations, Li said both countries face tasks of handling the COVID-19 pandemic, developing their economies and guaranteeing people's livelihoods.
Enhancing cooperation between the two countries benefits not only China and Mongolia, but also the region, he added.
Li said China stands ready to enhance cooperation with Mongolia to strengthen development strategy synergy, explore cooperation in key areas, expand bilateral trade, and facilitate port clearance and increase port throughput under the premise of effective pandemic prevention and control.
China hopes the two countries will further implement cooperation in preventing and curbing desertification to jointly build a clean and beautiful environment, the premier said.
China will, as it always has, support Mongolia to develop its economy, improve its people's livelihoods and fight COVID-19, Li said.
He stressed that energy security is a matter that concerns national interests and people's livelihoods.
Though possessing abundant coal resources, China is willing to carry out diversified energy cooperation, Li said, adding that China welcomes a larger volume of coal trading between the two countries to achieve win-win results.
Li said China encourages and supports enterprises from the two countries to actively carry out cooperation in line with market principles and business rules, and ensure a smooth and safe energy supply chain with reasonable and stable prices in the long term.
Noting that Mongolia and China have a shared future, Oyun-Erdene commended China's neighborhood diplomacy of amity, sincerity, mutual benefit and inclusiveness.
Oyun-Erdene thanked China for providing COVID-19 vaccines to Mongolia and said the cooperation between the two countries in the fight against the pandemic has set a model for the international community.
He expressed the hope that the two sides will strengthen cooperation in the fields of minerals, infrastructure construction, and desertification prevention and control, and that the two sides will increase their port clearance volume and promote the greater development of bilateral relations.