Sowing tech to reap profitable farm bounty
China Daily,March 02, 2020

Adjust font size: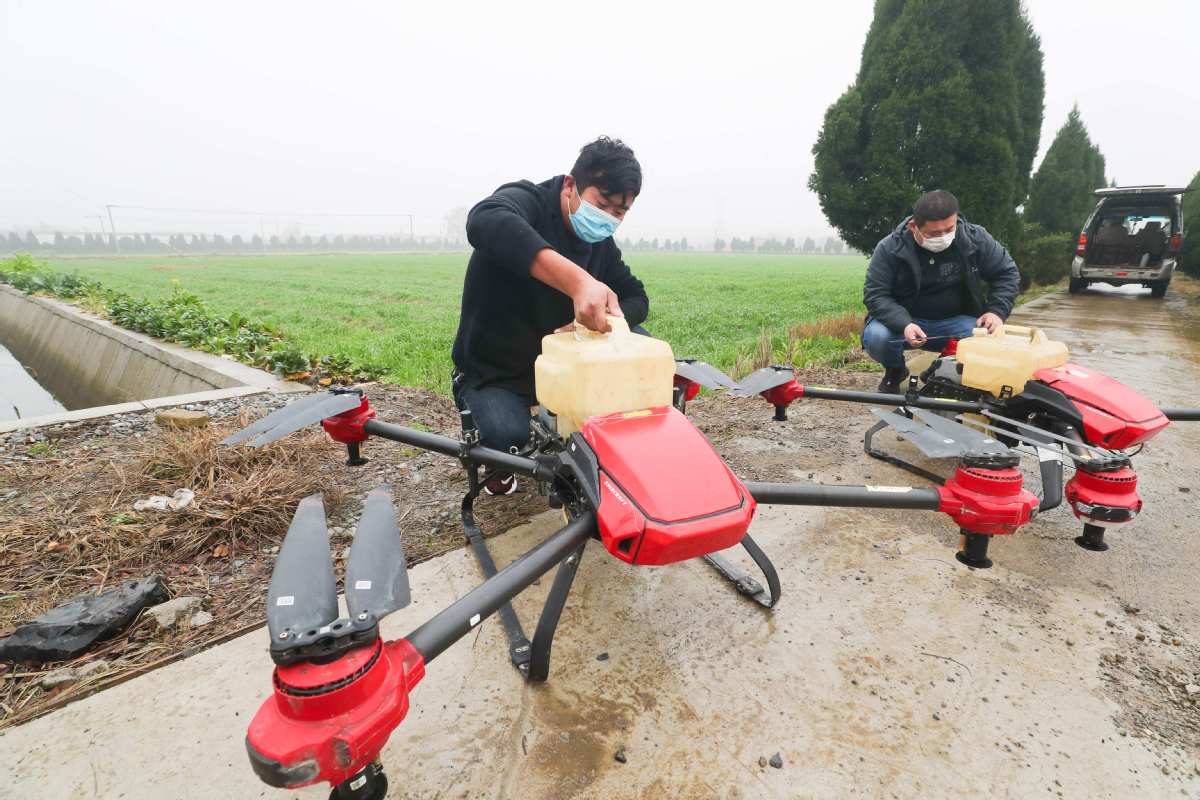 Cai Qiuliang (right), a grain farmer in Luoshe town of Deqing county, Huzhou city, Zhejiang province, prepares to operate a farm drone under the guidance of a local agricultural technician on Feb 14. [Photo by Wang Zheng/For China Daily
Drones, 5G, data analytics, and quick finance smarten agriculture, help ensure adequate food supply even during the epidemic; and unmanned aerial vehicles double up as disinfection devices
As the nation convulsed through the COVID-19 outbreak last month, China, with the world's largest population-over 1.4 billion-to feed, realized how crucial stable and secure agriculture is for society and economy.
At no time is the value and importance of adequate nutritious food, and its distribution across society, more obvious than during crises-and the novel coronavirus-stricken China is still well placed to meet the challenge, thanks to innovative technologies like farm drones, agricultural sector experts said.
China is looking beyond familiar recourses like fertilizers, pesticides, scientific techniques for higher yields, and imports to make farm produce not only adequate and economy-stabilizing but profitable for farmers, they said.
Custom-built drones are playing a critical role in the battle to ensure farm production levels are maintained at a reasonable level for adequate food supply to the nation at all times.
What's more, farm drones are doubling up as disinfectant sprayers at public places to reduce infections during the ongoing battle against the virus.
China's expertise in farm drone technologies was not achieved overnight. It took years of hard work, long-term vision, meticulous planning and big investments to ensure the game-changing technologies were adopted across the country, experts said.
The home-made high-tech aerial vehicles have been smartening China's agriculture, a sector that accounts for less than 10 percent of gross domestic product (which reached 99.09 trillion yuan or $14.14 trillion in 2019).
Farm drones are widely used for seeding, spraying fertilizers and pesticides. They help increase efficiency and manageability in plant protection and grain production, sector experts said.
With the modernization of agriculture, the demand for advanced farming devices has been growing significantly. Data from the Shenzhen-based Qianzhan Industry Research Institute showed the value of the domestic agricultural drone market will exceed 12.8 billion yuan by 2021, at an annual compound growth rate of 38 percent.
The Chinese government has also announced policies and measures to promote the use of modern agricultural machinery. These include subsidies to encourage the use of farm drones.
No wonder, XAG Co Ltd, China's largest agricultural drone maker, has ratcheted up efforts to develop a variety of drones and self-driving utility vehicles for use in farms. XAG aims to introduce digital farm infrastructure and create smart agricultural ecosystems.
The domestic sales volume of its drones is expected to rise to 50,000 units this year from 25,000 in 2019, said Justin Gong, co-founder and vice-president of the Guangzhou-based company.
In China, XAG's drones are widely used for seeding, sprinkling fertilizers and spraying pesticides.
"The total number of agricultural drones in China will grow to 1 million units within the next five years," Gong said, adding China is at the forefront of not only farm drone manufacturing but their myriad applications around the world.
He is also confident about bright business prospects in the future, as more farmers are transforming their plots of land into farms.
The authorities concerned are promoting modernization of agricultural practices. They are encouraging smaller farmers to pool their plots and become part of large-sized collective farms, as part of a broader drive to improve efficiency in food production.
XAG has launched the R80, an agricultural utility vehicle that is in essence an autonomous, multifunctional farm robot. The R80 allows third-party payloads and adapts to both plain fields and sloped terrains.
Gong said the vehicle is not only applied in crop fields in North China where the land is flat but in the hilly or mountainous areas of the Yunnan-Guizhou Plateau.
The company's smart agriculture system can provide smallholders and farm owners with meticulous production management solutions from seeding, fertilizing, crop protection to harvest, Gong said.
"The smart agriculture propositions leverage mobile communication and deploy data analytics to help smallholders secure and manage finance with ease," Gong said.
With 42,000 agricultural drones in operation, XAG has served 6.37 million farmers with precision crop protection services on 20 million hectares of farmland globally.
Moreover, the farm drone, as an autonomous precision spraying tool, can be highly effective in accurately sprinkling disinfectants over public places.
XAG allocated 5 million yuan for voluntary drone disinfection operations in China to fight the coronavirus outbreak. The fund is committed to providing XAG's agricultural drone users with technical support to properly carry out aerial disinfectant sprays that help curb the spread of the virus, especially in rural villages with weaker health systems and ordinary sanitation.
Chen Shengdou, director of the China Agro-tech Extension Association, said China has more than 50,000 units of agricultural drones in operation, topping the world's list, with an area of 30 million to 33 million hectares of crops that have been sprayed with pesticides and fertilizers by such drones.
Chen noted farmers have high expectations for modern agricultural equipment, which plays a vital role in prompting the transformation and upgrade of traditional agriculture.
Farm drones, which have the highest technical content and the largest market demand, are being used to safeguard a wide range of crops, he said.
DJI, the world's largest commercial drone manufacturer by market share, is also devoting a great deal of attention to agricultural drones, with the goal of helping farmers improve the efficiency of spraying pesticides and increasing the usage ratio of intelligent agricultural equipment.
Chen Tao, sales director of the firm's agricultural equipment department, said the shipment of DJI's farm drones reached 20,000 units last year, estimating the number will reach 100,000 units nationwide in the next five years.
The Shenzhen, Guangdong province-based company has expanded in overseas markets, such as Southeast Asia, Japan, South Korea and Latin America, Chen said.
In November, DJI launched its latest agricultural drone, the T20, which features an upgraded barrier-avoidance radar. This feature enables the T20 to identify obstacles in farmland areas to increase working efficiency and accuracy.
Drone operators who use such drones can spray pesticides on about 12 hectares of farmland an hour, up 20 percent compared to the previous generation of aerial vehicles.
Over the past year, DJI has created more than 30,000 new jobs in the Chinese agricultural market and pushed many young people to return home to start up related businesses. As of November 2019, its agriculture drones had completed spraying pesticide on 500 million mu (33.3 million hectares) farmland in all.
The company is bullish about the prospects for agricultural drones as the demand for such gadgets is huge and the whole industry is still in exploration mode.
"We don't focus only on profits but also on training people to operate the agricultural drones in the short term, as well as helping them develop a business model, which is in accordance with our corporate culture and medium-and long-term strategies," said Luo Zhenhua, president of DJI, in an earlier interview.
In December 2018, DJI announced plans to invest 10 million yuan in agricultural drones and on cultivating drone operators, open 1,000 brick-and-mortar retail stores, train over 20,000 professional drone operators and establish more than 600 training branches across the nation.
It also provided consumer loans so that buyers could afford drones, and its financial services sought to enable operations and related training.
DJI's farm foray started in November 2015, when it launched its first agricultural drone, the MG-1, marking its diversification into the industrial segment. It unveiled an upgraded agricultural drone, the MG-1S, in 2016 and the MG-1S Advanced in 2017, with upgraded flight control system, radar and sensors. In 2018, it launched the T16, which features an upgraded loading capacity.
"Applications in industry are beneficial for DJI to improve its technology, and its success in the consumer drone market will help DJI to further widen its industrial application fields," said Pan Xuefei, a senior analyst at market research firm International Data Corp.
Besides technologies, expertise and machines, drone firms are contributing in cash and kind to China's virus fight. For instance, DJI has set up a 10 million yuan fund to combat the novel coronavirus. It provided supplies like face masks, goggles and hazmat suits to front-line medical staff and subsidized drone-enabled disinfection work in rural areas.
Lan Yubin, a professor from South China Agricultural University, said agricultural drones have played a vital role in promoting "smart agriculture "around the world in recent years. He said the drone technologies have been growing very fast, and fierce competition in the drone market is driving the prices down all the time.