Adjustments made to microcredit to overcome impact of epidemic
en.chinagate.cn by By Zhao Binyu ,February 27, 2020

Adjust font size: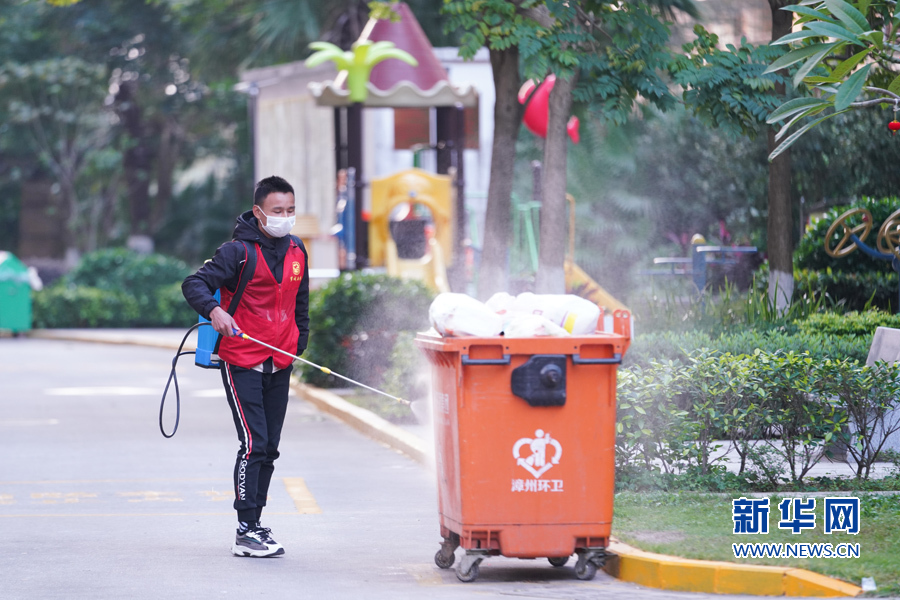 A community volunteer disinfects a garbage container in the Longbao Garden Community. (Xinhua/Xiao Heyong)
Recently, a circular was issued by the State Council Leading Group Office of Poverty Alleviation and Development and China Banking and Insurance Regulatory Commission that features information about overcoming the impact of the novel coronavirus outbreak. The document promotes the healthy development of poverty alleviation microcredit and helps impoverished people get back to work and escape from poverty.
The circular notes measures and efforts that should be taken, including appropriate extension of the repayment period for microloans. Banking and insurance institutions and poverty alleviation offices at all levels are required to determine the impact of the novel coronavirus outbreak and provide information to local banking institutions so that they can extend the repayment period beyond Jan.1, 2020 for impoverished households who have difficulty repaying poverty alleviation microloans, including loans that have been renewed. Extensions shall not exceed six months, and the terms of the original contracts shall still hold. All pertinent preferential policies shall remain unchanged, and banking institutions are encouraged to lower interest rates during the extension period.
The circular also states that banking institutions should streamline procedures, accelerate the microloan approval process, and improve efficiency. Poverty-stricken people should be made aware that they can apply for and repay loans via phone, smartphone apps, websites, and local points of service. Various flexible methods of handling banking and other business matters should be implemented for impoverished people who are impacted significantly by the epidemic. Late repayment of their microloans shall not be included in credit reports before the epidemic is over.
The release mentions that the impact of the epidemic on people's livelihoods should be assessed and that plans should be formulated to prepare funds for spring production and the resumption of production after the end of the epidemic. Timely support should be offered to impoverished people when they apply for loans, renew them, and augment them or take out additional loans. Poverty alleviation microcredit policies should remain stable. Loan thresholds should not be elevated, and repayment periods should not be shortened.
The circular stresses the role of government at the grassroots level. Members of village-level Party branches, committees, and poverty alleviation teams should actively communicate with impoverished people, disseminate information about microcredit, and provide instructions to and supervision of people who have microloans by phone and internet. Impoverished people have been able to make good use of microcredit in Yizhang county, Hunan province. The locale makes loan management services, industrial training, scientific instruction, and assistance with e-commerce available to its poverty-stricken citizens to complement the microloans that are available. Other areas should follow the excellent example that it has set.
The notice also indicates that microfinance supervision and risk prevention should be intensified. Poverty alleviation microcredit information should be recorded and managed accurately, and it should be shared and verified with banking institutions. Real-time supervision and analysis should be enhanced in order to gain a comprehensive understanding of the proportion of loans that are due to be repaid this year and their regional distribution. Areas that have been heavily affected by the epidemic and are home to residents that are under repayment pressure will be monitored, business and banking guidance will be provided, and credit risks will be prevented.
The circular also highlights the necessity of strengthening poverty alleviation leadership at all levels and banking and insurance regulatory bodies improving their organizational management in order to promote cohesion and coordination, give full play to the role of poverty alleviation microcredit, help impoverished people who have been affected by the epidemic resume production as soon as possible, and achieve stable, high-quality poverty reduction outcomes.