Property developers offer relief to retailers
China Daily,February 19, 2020

Adjust font size: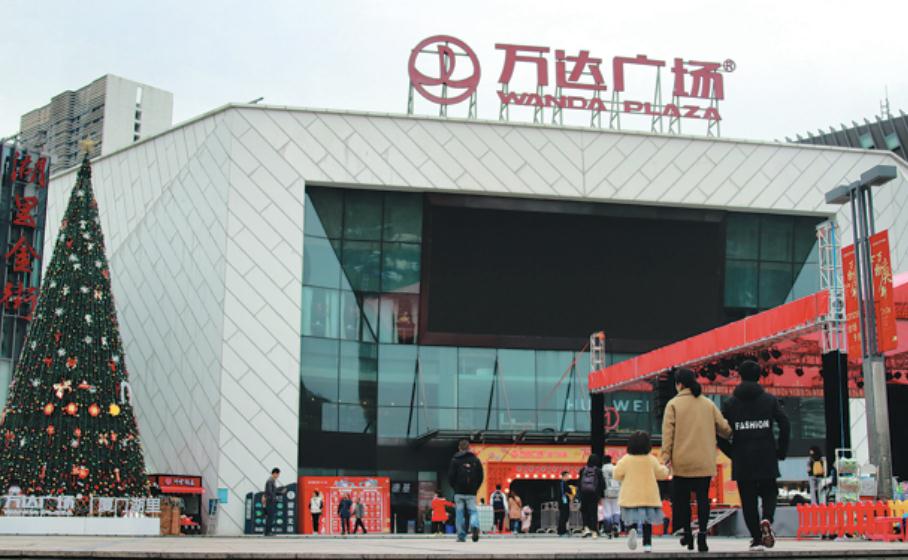 Customers visit a Wanda Plaza in Xiamen, East China's Fujian province. [Photo by Zhou Daoxian/For China Daily]
As many as 93 commercial property developers stood up to cut rent for retailers located in more than 1,000 department stores and shopping malls in a move to help a retail sector hit hard by the novel coronavirus epidemic which has spread from Wuhan, capital of Central China's Hubei province, to the whole nation.
The Lunar Chinese New Year, which fell on Jan 25 this year, is normally the golden week for retail businesses that would see high demand for shopping, dining, entertainment and leisure activities.
The viral outbreak pinned the majority of Chinese people at home to avoid human-to-human transmission of the disease. As a result, most retail businesses are practically suspended.
The epidemic could also be the straw to break the back of the catering businesses, which have been squeezed hard by rising raw material costs and razor-thin profits throughout 2019.
In its latest report on the impact of the virus on the Chinese economy, Evergrande Research Institute noted that sectors including dining and restaurants, tourism, cinemas, transportation, education and training are among the worst hit.
"Combined revenue of retail and dining in the seven-day Spring Festival holiday totaled 1 trillion yuan ($143 billion) in 2019. During the same period of this year, the loss of Chinese dining business operators may reach 500 billion yuan," the report said.
Many chain restaurants have expressed their worries about their capital flow due to the stagnant business conditions.
Jia Guolong, founder and chairman of northwestern China flavored cuisine the Xibei Group, is coping with more than 20,000 staff who have been idled.
"We operate more than 400 chain stores in more than 60 Chinese cities, but now there are only 100 plus stores in operation for delivery service, with the rest of them suspending business. In the month around the Lunar New Year, we will lose between 700 million and 800 million yuan in revenue, and will run out of capital in less than three months," Jia told the Beijing News.
Hangzhou-based Grandma's Home Group had closed all of its more than 200 chain stores since Jan 26 and the time to relaunch operations is unknown yet. Though not as big as Xibei, the dining group has to send out the salary of 8,000 employees totaling 60 million yuan per month.
"Counting in the 30 million yuan in rent, we have to burn 2.5 million yuan every day," Wu Guoping, founder of Grandma's Home, was quoted as saying by Beijing News.
Leading Chinese commercial property operators have noticed the critical condition of retailers and have voluntarily offered them rent rebates.
On Jan 28, Dalian Wanda Commercial Management Group Co Ltd announced it will exempt rental and property management fees for all its tenants at 323 shopping malls from Jan 24 to Feb 25. This 33-day rent and fee relief amounts to between 3 billion and 4 billion yuan.
As of Feb 6, as many as 93 commercial property enterprises including Poly Commercial Real Estate, Longfor Group, and Shui On Land among others announced their own plans for rent cuts or relief for more than 1,000 shopping malls and department stores.
"The move has fully taken the sharp decline in business into consideration, and it has well reflected the property companies' social responsibility and love, which is applaudable," said Chen Sheng, president of the China Real Estate Data Academy.
"The flexible rent adjustment measures of real estate companies will have a positive impact toward the retail industry, which will not only cushion sales pressure for retailers in the first quarter, but also improve the partnership between property developers and tenants," said Yan Yuejin, research director at the E-House China R&D Institute, adding the move will stabilize commercial property development in the long term.
"Same as every Chinese people who are striving to battle the novel coronavirus epidemic, property companies have made their own contributions by lowering rents and making donations in forms of both cash and medical supplies," said Lu Wenxi, a researcher with Centaline Shanghai, a property consultancy.
Ever since the outbreak of the virus in China, more than 130 property developers have donated up to 2 billion yuan in cash, more than 4 million facial masks, 220,000 units of protective suits, and 2.3 million pairs of gloves, the Securities Daily said in a report, citing data collected by the China Index Academy.
"As we are encouraging rent cuts or relief to lower the business cost of retailers, it is worth mentioning that Chinese property enterprises themselves are also confronting their own risks and are in need of precautions and preparation," said Chen.
Given the seasonally low sales coupled with concerns over the epidemic, the combined sales revenue of the nation's top 100 property developers declined about 12 percent year-on-year to 509.7 billion yuan in January, data from the China Real Estate Information Corp showed.
The situation in February could become even worse as off-line new home sales have almost ground to a halt, and sales of pre-owned properties are likewise stagnant.
A survey by China Index Academy showed 45 percent of those polled said they have chosen online channels to seek homes, and 70 percent are going to postpone their home purchases due to the coronavirus outbreak, the China Securities Journal reported.
Zhang Dawei, chief analyst at Centaline Property Agency Ltd, suggested real estate transaction volume could tumble more than 80 percent during the period between late January and February, and the situation could get worse if prevention and control of the disease is not effective enough.
Like their retail partners, property developers have to stay profitable to survive. They hope the rent cuts do not become mandatory.
Real estate companies have to make decisions based on the conditions of their companies and must find a balance between social responsibility and business development, said Lu.