Tech making life safer amid outbreak
chinadaily.com.cn,February 19, 2020

Adjust font size: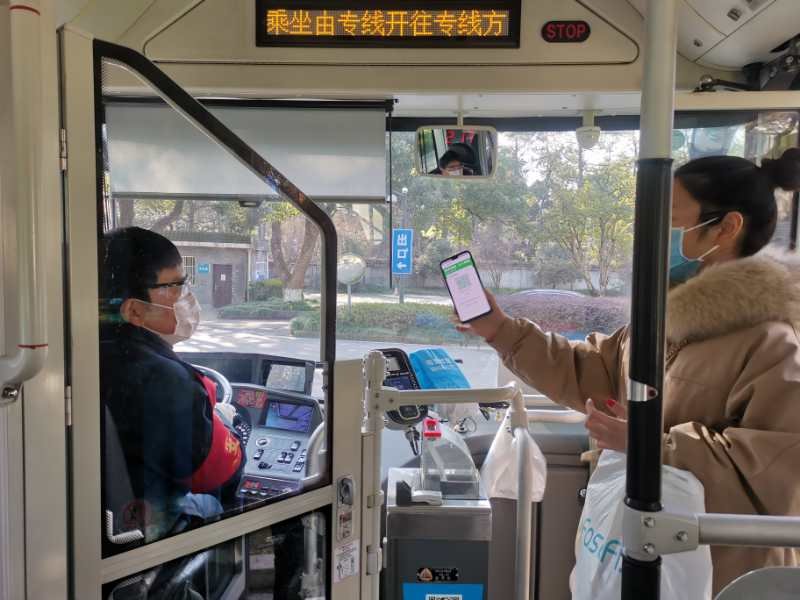 A passenger uses a green health code to board a bus in Hangzhou on Feb 17, 2020. [Photo provided to chinadaily.com.cn]
A health QR code system for the prevention and control of the novel coronavirus outbreak is now being promoted nationwide since its launch in Yuhang district, Hangzhou on Feb 9. Behind its rapid development is a group of experts in Hangzhou, Zhejiang province, working around the clock to help fight the contagion.
Not long after the virus outbreak in Wuhan, Hubei province in late December, regions around the country began to take action including controlling the entry and exit of vehicles and individuals to curb the epidemic.
This inspired product managers at Ant Financial, the financial arm of Hangzhou-based Alibaba, to design and develop an online product which could help streamline the process of registering, reporting and monitoring people's health conditions.
"Digital technologies are needed to draw a dynamic map pinpointing people's positions in the prevention and control work," said Yi Zhi, a project manager at the Hangzhou-based company.
"Dynamic management will help government departments reduce costs in the battle against the epidemic," he added.
Dozens of staff members, mostly programmers, were called back to work at the office.
All of them were asked to wear masks and keep their distance from each other. Most communications and conferences were held online to avoid close contact. Meanwhile, hundreds of their colleagues offered to help from home.
It took the team four days to develop and complete the system before it was first launched in Yuhang. Two days later, an upgraded version began to be applied citywide.
After the system proved effective in preventing and controlling the virus spread in Hangzhou amid production resumption, Zhejiang decided to promote it to the entire province, and governments of many other provinces and cities outside Zhejiang such as Southwest China's Sichuan began to contact Ant Financial for cooperation opportunites as well.
According to the fintech services provider, they are currently working with the General Office of the State Council to develop a national health code system on China's e-government platform and promote it to the whole country soon.
From Feb 9, the day of the system's launch, to Feb 16 when the central government decided to apply the system nationwide, the team spent only seven days on this mission, much less time than usually needed for such a project.
"We have to win the race with time as many companies are about to resume operations soon," said Cheng Bi (alias), a technical expert at Ant Financial.
He said the team is sparing no efforts in fulfilling the task and hopes that China will be restored to vitality and prosperity quickly.