Cities tap Yangtze for drinking water
China Daily,April 19, 2019

Adjust font size: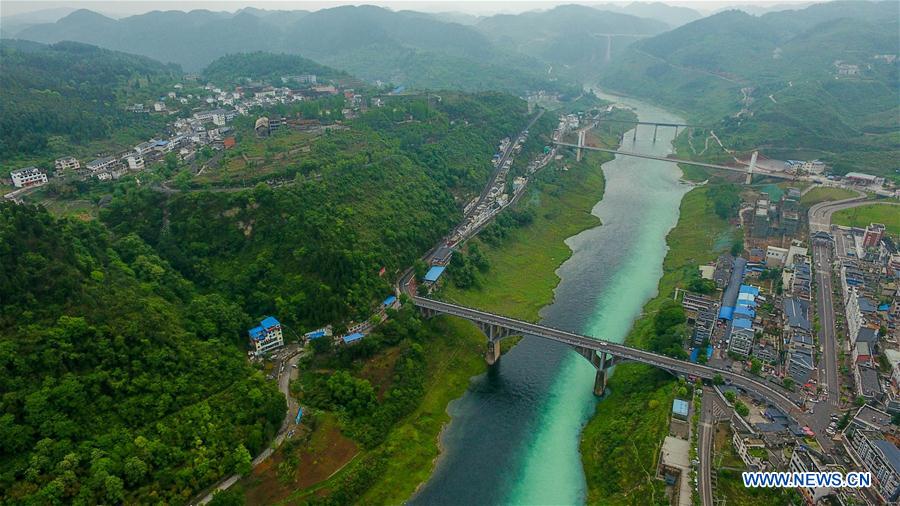 Photo taken on May 8, 2017 shows a bird's-eye view of bridges over the Wujiang River, a tributary on the southern bank of the upper reaches of Yangtze, in Southwest China's Guizhou province. [Photo/Xinhua]
Water pollution has forced many regions, especially in southern China, to change their sources of drinking water, with many reaching out to the Yangtze River, a report said.
The contamination of water bodies has made drinking water in southern China more scarce, despite a dense network of waterways, according to the report, published earlier this year by the Institute of Public and Environmental Affairs, an NGO.
A campaign to root out environmental violations at water intake sites is expected to improve things, but environmental authorities should be aware that local governments may choose to abandon their water intake sources to avoid rectifying problems, said Ma Jun, director of the institute.
Information compiled by the NGO from government documents show that at least 162 sources of drinking water across the country have been abandoned or were slated for suspension over the past decade, mostly in the south.
It said many areas in the south must receive water diverted from far away because of local pollution. For some areas in the north, diversion is chosen because of water shortages. Many places in Jiangsu province have turned to the Yangtze for water.
Previously, cities in southern Jiangsu relied on Taihu Lake, China's third-largest freshwater lake, and other local water bodies for their drinking water. This changed, however, after a major outbreak of blue-green algae in 2007. The incident forced Wuxi to temporarily suspend water supplies. After the incident, major cities in the Taihu basin turned to the Yangtze for drinking water, the report said.
In Taizhou, located on the north shore of the Yangtze, Xinghua is the only one of six areas administrated by the city that has yet to tap the Yangtze for its drinking water. But a diversion project from the river was listed on the Xinghua government's agenda last year.
Yancheng, which is further north of the Yangtze, turned to the river for water in late June after experiencing at least four drinking water contamination incidents.
"As many areas abandon local sources and turn to the Yangtze, some sections of the river have become overcrowded" with diversion facilities, the report said.
Even the Yangtze is not a perfectly safe supply. In April 2014, for example, drinking water in Taizhou was interrupted because of pollutants discharged from local chemical plants.
In 2016, inspectors from the central government visited 12 of the 30 sites for collecting drinking water along the Yangtze in Jiangsu province and found eight with environmental violations, including the existence of ports for the transportation of chemicals and fish farms in protected areas.
In March 2018, the Ministry of Ecology and Environment and the Ministry of Water Resources initiated a special campaign to root out environmental violations at sites that supply drinking water. As of the end of last year, all but nine of 6,251 violations that inspectors found had been corrected, at a total investment of 41 billion yuan ($6.1 billion) in 31 provincial regions.
According to the top environmental watchdog, 3,740 industrial enterprises were relocated and 1,883 wastewater outlets were shut down during the campaign.
"In the long run, the campaign will help curb pollution at sites that supply drinking water and prevent more of them from being abandoned due to pollution," Ma from the institute said.
There are specific dos and don'ts at these sites, but some of the restrictions will be lifted if they cease to be sources of drinking water.