Preserving the Green
Beijing Review,March 02, 2019

Adjust font size: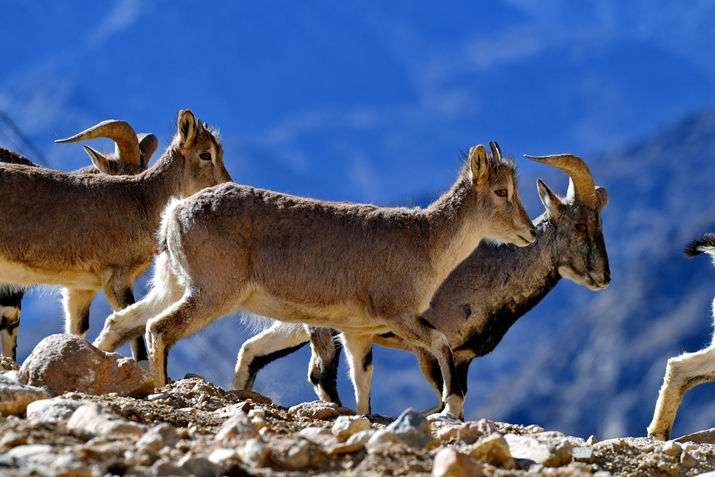 Blue sheep walk along the Mount Qomolangma National Nature Reserve on February 4, 2018 (XINHUA)
Earlier this year, a news item attracted people's attention: Mount Qomolangma, the highest peak in the world with an altitude of 8,844 meters, will be closed indefinitely.
In an official statement from the Mount Qomolangma administrative department in Dingri County of Xigaze City, southwest China's Tibet Autonomous Region, the Mount Qomolangma National Nature Reserve below the Rongbuk Monastery at about 5,000 meters above sea level will continue to be open to the public. The section above the monastery, which is the core nature reserve area and includes the Qomolangma Base Camp, will be closed to ordinary tourists and brought under strict protection.
According to Tang Wu, head of the tourism and development committee of Dingri, visitors can still enjoy the magnificent view of the famous mountaintop, as the distance from the monastery to the top of Mount Qomolangma is merely 20 km.
The ban signifies the stepping up of the ecological protection of Mount Qomolangma, home to one of the world's most vulnerable ecosystems. "We still welcome travelers to come and appreciate the charm of Mount Qomolangma. At the same time, we want to avoid over exploitation and are trying to maintain its original ecology," Tang told Beijing Youth Daily.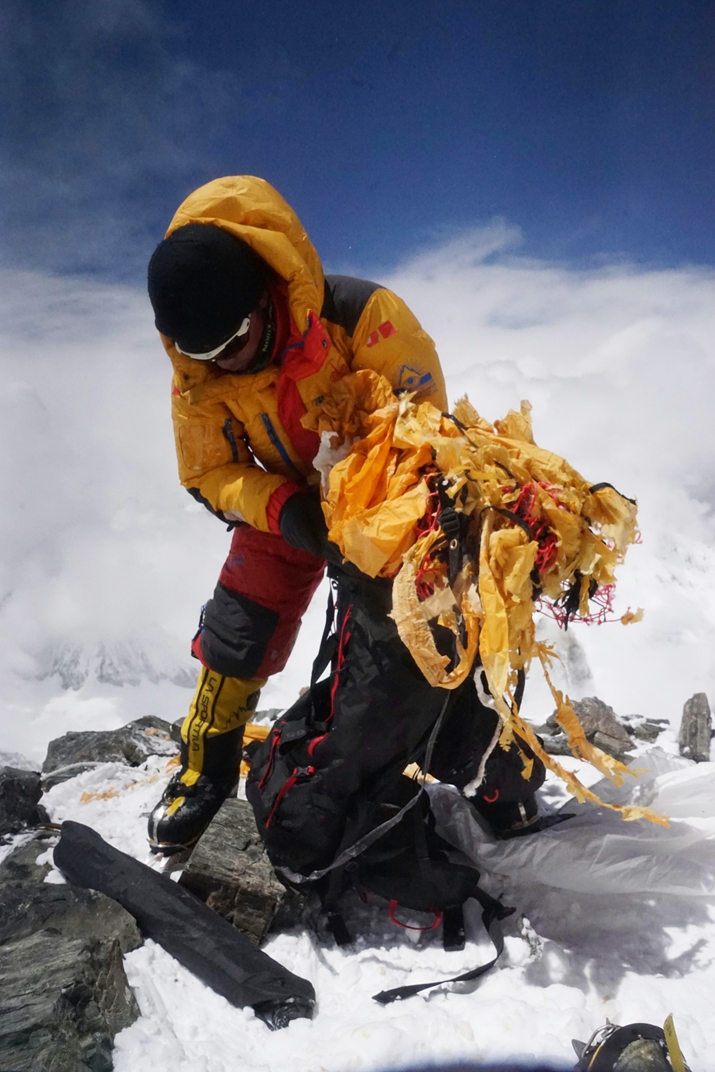 A mountain guide collects garbage on Mount Qomolangma in southwest China's Tibet Autonomous Region in May 2018 (XINHUA)
Protection upgrading
In recent years, an increasing number of tourists and mountaineers have traveled to Mount Qomolangma. According to official statistics, the site received approximately 140,000 visits in 2018.
Unfortunately, a large tourist influx has also brought a large amount of rubbish. In 2018, 8.4 tons of trash was gathered and cleared at the nature reserve above about 5,200 meters, including 5.2 tons of daily waste like food packaging, cans and bottles, and 1 ton of mountaineering garbage such as climbing rope, tents and gas tanks, as well as 2.2 tons of human excreta.
The local government, which was already aware of the situation, implemented strict protection measures. Apart from closing the core area and clearing it out, Dingri also invested 3.6 million yuan ($531,400) and hired a company to operate the cleaning and maintenance work of the mountain below 5,200 meters. Over 300 tons of rubbish was cleared away.
The Mount Qomolangma National Nature Reserve is also exploring a set of long term management mechanisms by formulating policies involving sewage and garbage disposal and mountaineering management.
The new movement to protect the ecology at the reserve area is the result of a national campaign aimed at cracking down on illegal activities in nature reserves and safeguarding national ecological security.
Seven national government departments, including the newly established Ministry of Ecology and Environment (MEE), initiated the campaign called the Green Shield 2018, and initiated environmental inspections around China to restore the ecology in nature reserves under threat of human activity last March.
China started establishing nature reserves in 1956 and now has 2,750, including 469 national-level and 847 provincial-level ones, covering a total of 147.33 million hectares and accounting for 14.88 percent of national land area. However, some areas have been disrupted by tourism, coal mining and factories.
During inspections, China's environmental watchdog found a number of violations. Many officials were held accountable for allowing encroachment into natural preservation areas. Businesses involved were closed or had their operations suspended, while illegal buildings with a combined area of 19 million square meters were removed. The Green Shield 2018 is considered the country's most rigorous campaign against such violations to date.
Meanwhile, local governments have taken actions to ensure the effective implementation of the campaign. For example, in September 2018, the forestry department in China's northwestern Shaanxi Province launched an ecological corridor program to restore and improve giant panda habitats, which were fragmented due to long-term human activity, road traffic and hydropower station construction.
According to the program, by 2027, six ecological corridors will be built in the Qinling Mountain area to facilitate easy passage for the 345 wild pandas that live there. Moreover, bamboos will be planted and vegetation restored along the corridors to increase food sources for the pandas. The mountain range is known as a natural boundary between China's north and south and is home to a huge variety of plant and other wildlife such as the golden monkey and crested ibis.
Local governments are also clamping down on unlawful activities. In January, several Shaanxi officials were punished for failing to demolish or forbid the building of a large number of illegal villas in the area, which undermined the local environment.
Shaanxi vowed to completely solve a series of problems, including illegal construction, deforestation, mining and hunting by the end of June, according to an action plan released by the provincial government.
In addition, local authorities will limit mining activities, phase out small hydropower stations, repair their environmental impact and strengthen management of tourist spots and rural family inns in the Qinling Mountains by the end of 2020.
In February, Xi'an, capital city of Shaanxi which is situated in the Qinling Mountain area, designated February 15 as Xi'an Ecology Day in order to call on the public to participate in restoring and protecting the local ecological environment.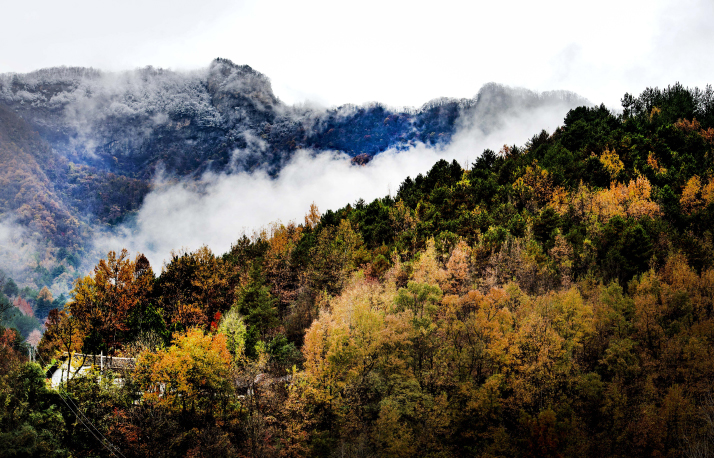 A colorful scenic view of the Qinling Mountains on November 5, 2018 (XINHUA)
Better prosecutorial work
At a national conference on environmental protection held in last May, Chinese President Xi Jinping said that protecting the environment requires the best institutional plans and the strictest rule of law. Institutional innovations must be accelerated and enforcement of laws and regulations must be strengthened.
In recent years, prosecutorial work has played a crucial role in ensuring that ecological protection runs smoothly. In 2018, a total of 42,195 suspects faced criminal prosecution for damaging the environment across the country, and 26,287 litigation cases involving such crimes were filed, said Zhang Xueqiao, Deputy Procurator-General of the Supreme People's Procuratorate, at a press conference on February 14.
Suspects and defendants in environmental cases were encouraged to repair the damages they caused as a way to show remorse and plea leniency. "When a case is closed and justice is served, we hope the damaged environment will also be rehabilitated rather than left unattended," Zhang said.
Additionally, nearly 60,000 public interest litigation cases involving ecological protection were filed in 2018. As a result, about 140,000 hectares of illegally occupied farmland, forest, wetlands and grasslands have been restored.
"Public interest litigation cases not only affect parties to the cases, they also have far-reaching legal and social impact that may change a whole area or sector of society," Zhang said.
To improve efficiency, a number of local prosecuting agencies set up divisions specialized in environmental crimes and tried to establish coordination mechanisms across different jurisdictions.
Thousands of government officials were held accountable for ineffective and inadequate work during the environmental inspections conducted in recent years, showing the government's determination.
Bie Tao, Director of Policy and Law for the MEE, said at the February 14 press conference that the environmental supervision and inspection conducted by the ministry is not a one-time deal. It pays a return visit to places where environmental damage occurred and ensures that the problem is properly handled instead of being neglected or perfunctorily dealt with.
"In the future, we will not relax on environmental protection and governance. We will not allow ourselves to go backwards," Bie said.