Working the land becomes less arduous as automation rate rises
China Daily,February 28, 2019

Adjust font size: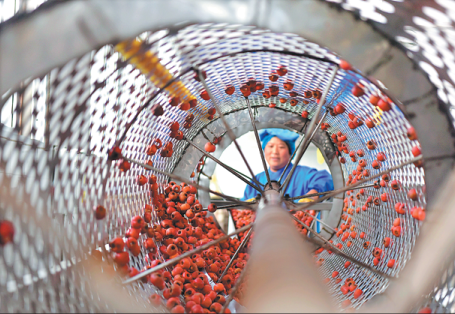 A woman works on a fruit line at a company in Zibo, Shandong province. Zhao Dongshan/Xinhua
Lyu Zhenbo was once famous in his village as the farmer with the straightest rows of crops. Now, though, he cannot compete with the guidance systems fitted on modern agricultural machinery.
"I used to farm with cattle," said the 57-year-old from the eastern province of Shandong. "The days of toiling on the land have gone. Handling a combine is just like driving a car. Farming has become much easier with the help of machines."
For Lyu, farming is now less arduous and more enjoyable than he ever expected when he bought his first walking tractor 40 years ago.
"With a walking tractor, plowing and sowing seemed less tiring," he said, adding that he is surprised at how agricultural machines have changed his life.
The production levels and living standards of China's farmers have undergone huge changes, especially in the past 40 years.
The hardships they faced have largely been eased, and outdated agricultural tools such as plows and sickles have started to become memories.
At the Agricultural Memory Museum in Caoxian county, Shandong, more than 100 traditional agricultural tools are displayed, including a wooden plow dating back to the Qing Dynasty (1644-1911).
"It is a typical Chinese agricultural tool, invented during the Eastern Han Dynasty (25-220) and used for irrigation," said Pan Lujian, curator of the museum, as he introduced a water wheel to visitors.