Farmers cultivate social media sales
China Daily ,February 13, 2019

Adjust font size: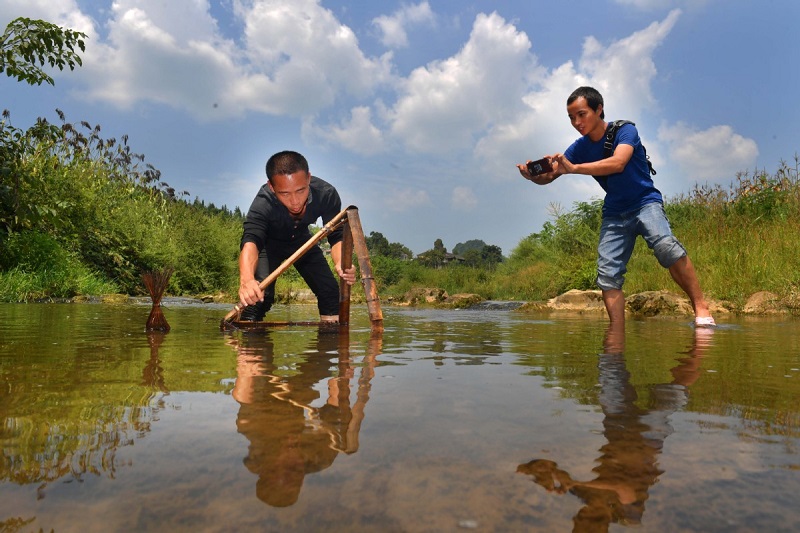 A farmer, who recently became an internet celebrity through livestreaming while fishing for river shrimp, shows his audience an authentic rural lifestyle in the countryside of Yongshun county, Hunan province. [Photo by Guo Liliang/For China Daily]
Short video apps prove a way for rural businesses to reach urban consumers
In 2017, Gao Yulou and his wife Wang Jiao turned their backs on steady income in the bustling city of Kunming, capital of Southwest China's Yunnan province, and headed back to their hometown to be mango farmers.
The inspiration came after Gao saw someone selling fruits via videos online. He noticed how each video had a high click rate, and left people hungry to try what they'd seen.
His hometown is Huaping county in Lijiang, Yunnan province, China's third-largest mango production area, which is famed for its high-quality late-maturing mangoes.
There, they got to work, planting more than 2,000 mango trees. In 2018, they began to record and share local specialty and gourmet videos though Kuaishou, a photo and video-sharing app popular among rural communities and migrant workers.
Helped by some cameo appearances by their lovable toddler daughter, popularity soon spread, and their Kuaishou account now has 1.82 million fans or followers.
The account now sources fruit from 63 farmers in the area, and has sold more than 85 metric tons of mangoes.
Each month, they sell more than 30,000 yuan ($4,430) of agricultural products-half of that comes directly from Kuaishou.
"We will always record our life with Kuaishou, which is not only a kind of software for us, but also a part of our life. We hope to explore a new way by virtue of content-driven e-commerce and make contribution to the revitalization of rural areas," Gao said.
Kuaishou has become particularly popular among small retailers and farmers in rural areas. Statistics from the company showed there are more than 3.75 million monthly active users in China's 832 poverty-stricken counties. In all, they make up around 20 percent of platform's total user base.
Explaining the popularity, Chen Sinuo, vice-president of Kuaishou, said the short videos enable users in rural areas to gain attention from the public, show their lives and have a sense of recognition and pride in their own identities.
Industry insiders say there is huge potential in developing agriculture products, rural ecology and tourism, especially if rural entrepreneurs look to harness the power of social media.
According to Kuaishou, more than 16 million people in rural areas received incomes through the platform in 2018, among which about 3.4 million people come from national-level poverty-stricken counties.
The firm has also cooperated with third-party e-commerce services like Taobao run by Alibaba Group Holding Ltd, and mobile e-commerce platform Youzan, which is backed by Tencent Holdings Ltd.
"Kuaishou, which has 160 million daily active users, has become the entrepreneurial platform for more and more individuals and small and medium-sized organizations," said Zhang Fan, director of Kuaishou's CSR project.
Content-driven e-commerce is a growing trend in China. Kuaishou's rival Douyin has also rolled out a shopping cart feature.
Figures from mobile big data company QuestMobile showed that by the end of September last year, Kuaishou had 257 million monthly active users, while Douyin had 231 million.
The revenue of the short-video industry reached 14.01 billion yuan in 2018, up a blistering 520.7 percent year-on-year, and the figure is expected to surpass 55 billion yuan in 2020, according to market research company iResearch.
"The method of publicizing products through short-video platforms can greatly solve the lagging sales of agricultural products caused by the lack of resources and channels," said Zhang Xintian, an analyst from market research company iResearch.
He added that the platforms also have social value.
"Users could learn about the natural and high-quality agricultural products through short-videos, experience rural life and further improve their awareness," Zhang said.
Zhang pointed out how cooperation between short-video platforms and e-commerce websites is an exciting commercial model.
"At present, short-video platforms play an obvious role in guiding traffic to e-commerce platforms," Zhang said, adding the platform could build its own e-commerce platform and logistics in the future.
Ma Shicong, an analyst with Beijing-based internet consultancy Analysys, said young mobile users are generating a growing demand for short videos, as their free time tends to be fragmented and short.
It seems Kuaishou is favored by people living in third and fourth-tier cities, while Douyin is popular among youths in first and second-tier cities, according to Ma.
"However, most of the apps will not make profits in the short term, as the early investment is huge. They generate incomes through advertisement revenue, membership fees and other value-added services," she added.