Innovation in science and technology bolsters Guangdong's economy
China Daily,February 12, 2019

Adjust font size: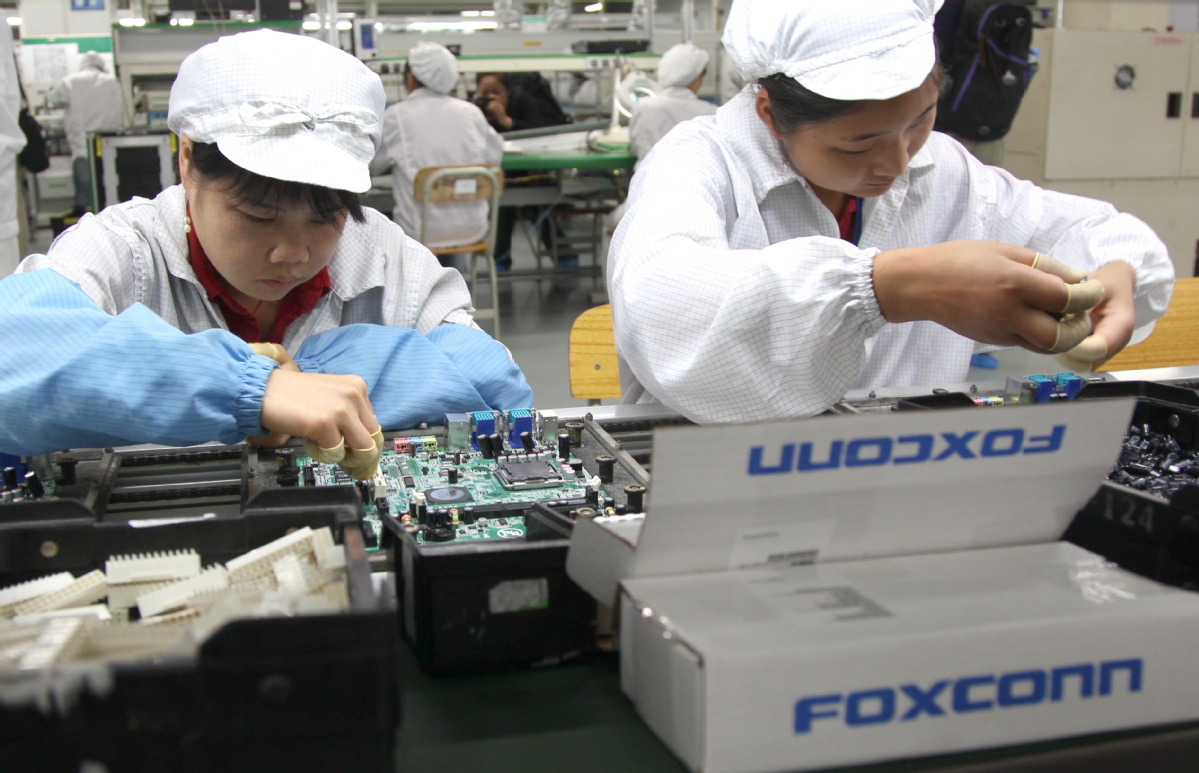 Employees work at a Foxconn factory in Shenzhen, Guangdong province. [Photo/China Daily]
Despite China's ongoing trade war with the United States, Guangdong province, an economic powerhouse, has found new ways to attain sustainable economic development.
In addition to the construction of the Guangdong-Hong Kong-Macao Greater Bay Area, which helped the province maintain its strong growth momentum, innovation in science and technology was the key to sustainable economic growth last year, Wang Ruijun, director-general of the provincial Department of Science and Technology, told local media recently.
Wang said the provincial government spared no effort to promote innovation after President Xi Jinping urged Guangdong to further develop its innovative industries during last year's two sessions - the annual meetings of China's top legislature and advisory body.
Wang said Guangdong has invested more than 4 billion yuan ($593 million) to help build seven provincial-level laboratories and 72 other major scientific research projects to support economic development.
It has also actively integrated its scientific and technological development into the country's development plan for major scientific and technological projects, while building the Guangdong-Hong Kong-Macao Greater Bay Area Innovation Center of Science and Technology, he said.
Wang said his department encourages companies to promote scientific and technology innovation to make them more competitive.
Zhou Yawei, a member of the Standing Committee of the Guangzhou Committee of the Communist Party of China and secretary of the Party Working Committee of the Guangzhou Development District, said the district has registered more than 20,000 science and technology companies and took the lead in innovation among 219 State-level development zones in China last year.
It is the first time the district - which is home to Sino-Singapore Knowledge City, Guangzhou Science City and Guangzhou International Island - has led State-level development zones in scientific and technological innovation. It ranked second in 2017.
"The district, in the eastern part of Guangzhou, introduced preferential policies to promote scientific and technological innovation years ago," Zhou said. "Priority was given to the development of the information, artificial intelligence and biopharmaceutical industries.
"Scientific and technological innovation are expected to play an even bigger role in the district's economic development and industrial upgrading in the years ahead."
Zhou promised to attract more high-end talent from home and abroad this year to help boost the district's scientific and technological innovation efforts.
Yuan Yuyu, chairman and general manager of Medprin Biotech in Guangzhou, said the city and the whole Guangdong-Hong Kong-Macao Greater Bay Area still have huge space to develop innovative businesses compared with the Tokyo, New York and San Francisco areas.
Medprin has proposed building an innovation center for high-performance medical equipment and instruments in the Greater Bay Area.
Guangdong, which has been largely reliant on foreign-oriented economic development, achieved GDP growth of 6.8 percent last year.
The province's GDP, a barometer of China's reform and opening-up, reached 9.73 trillion yuan last year, cementing once more the top ranking in the country, a position it has held for more than three decades.
The province's regional innovation topped the country for the past two years, according to the Ministry of Science and Technology. Its investment in research and development exceeded 250 billion yuan last year, or 2.65 percent of the province's GDP.
Guangdong had registered more than 40,000 new and high-tech companies as of the end of last year, more than any other provincial-level region.