Innovative lenders give consumers more borrowing options
China Daily,February 12, 2019

Adjust font size: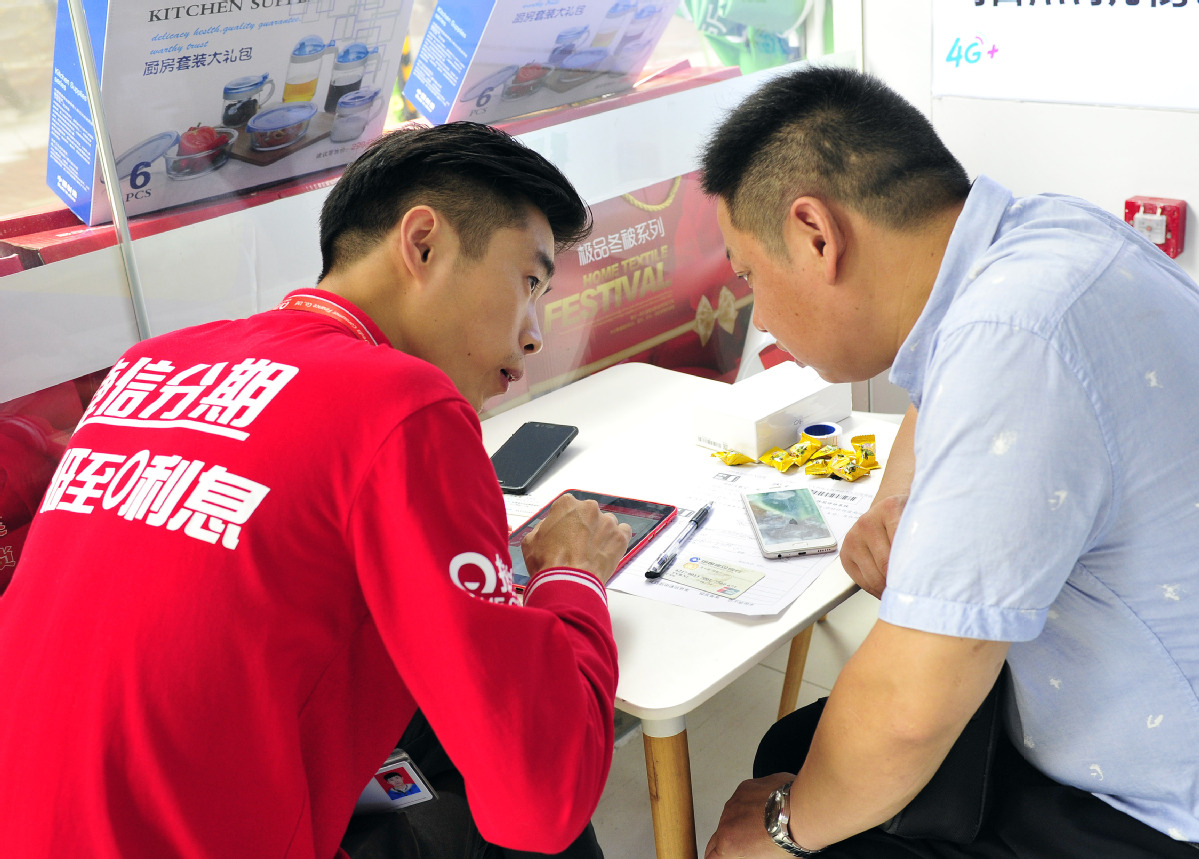 A Home Credit Group employee introduces loan products to a customer at a branch in Nanjing, capital of Jiangsu province. [Photo by An Xin/For China Daily]
Almost everyone has a smartphone now, but not everyone can afford it.
Many Beijing suburbs are home to large communities of young migrant workers, for whom smartphones are a necessity, as they make daily life easier and evenings more enjoyable after a long working day.
But, first-tier city rent and living expenses eat away most of their salary, which is why consumer loans come in handy. For those who do not have the same purchasing power as the middle-income group, but still want expensive products - be it the latest iPhone or a formal suit for special occasions - a wide variety of loan products are emerging to lend a hand.
Czech Republic-based Home Credit Group is one of them. The lender has partnered with Oppo Electronics Corp and Vivo Mobile Communication Technology Co to offer end-to-end consumer finance covering loans, consumption, payments and credit system construction, in a bid to seize a greater market share.
After eight years of development, Home Credit has established a presence in 312 Chinese cities with over 230,000 sales points. It has also worked alongside Oppo and Vivo to expand into the Association of Southeast Asian Nations region, especially Vietnam and the Philippines, leveraging the growth opportunities brought by China's Belt and Road Initiative.
Unlike local dealerships or banks, Home Credit is able to offer ASEAN customers a smartphone backed by an interest-free loan.
"Besides helping consumers buy mobile phones, we are also making efforts to offer consumers omnichannel experiences in more diverse areas, such as home appliances, home decoration, beauty, tourism, vocational education and fitness," said Roman Wojdyla, general manager of Home Credit Consumer Finance Co in China.
Wojdyla said a huge offline sales team often requires high investment in strong, experienced and professional management, so many consumer finance companies are now extending their business to online channels and exploring different opportunities.
Eager to further enhance its earning ability, Home Credit is currently improving resource allocation efficiency in the financial industry, and using Internet Plus technologies to diversify its financial service channels, such as via smartphones, apps and e-commerce platforms.
The development prospects of China's consumer finance industry will be bright, because the proportion of consumer loans in total lending has notably surged, boosted by the growing role of consumption in the domestic economy, said Li Daokui, an economist at Tsinghua University and former monetary policy committee member at the People's Bank of China.
"Because medium and long-term consumer loans served by commercial banks, such as mortgages and car loans, have declined in recent years, consumer finance companies can rely on their advantages to vigorously expand unsecured credit to support both the real economy and domestic consumption," he said.
The number of licensed consumer finance companies increased to 23 in China last year from four in 2009, and the size of the consumer finance market jumped to 8.45 trillion yuan ($1.25 trillion) in October 2018 from 679.8 billion yuan in January 2010, according to the Chinese Consumer Credit Market Research 2018 report released by the Center for China in the World Economy at Tsinghua University.
Consumer finance companies are emphasizing their role in serving the general public. With the support of cutting-edge technologies, consumer lenders are covering more business areas, stepping in where commercial banks have less time or resources, such as mass consumption, weddings and household expenses, said Zhao Xian, professor of marketing management at the Central University of Finance and Economics in Beijing.