Green Prosperity
China Today,December 20, 2018

Adjust font size:

THE landlocked mountainous Guizhou Province in southwest China is one of the poorest regions in the country. While committed to developing the economy and lifting people out of poverty, the local government has been facing the tremendous pressure of environmental protection. Once an impoverished town, Baihuahu,a suburban town of the province's capital city of Guiyang, has struck a balance between economic growth and environmental conservation and explored a green path for poverty alleviation while leading rural residents to prosperity.

Agro-tourism

Located 22 km away from Guiyang, Baihuahu Town is known for a namesake lake loosely translated as Blossom Lake. It is interspersed with 108 rock islands capped with lush woods, presenting jaw-dropping scenery. But local people have been barred from developing the lake for tourism by strict environmental protection laws and regulations, therefore perpetuating a poor lifestyle on limited farmland. Some 1,100 farmers in the village besides the lake tilled arable land measuring 0.17 square km.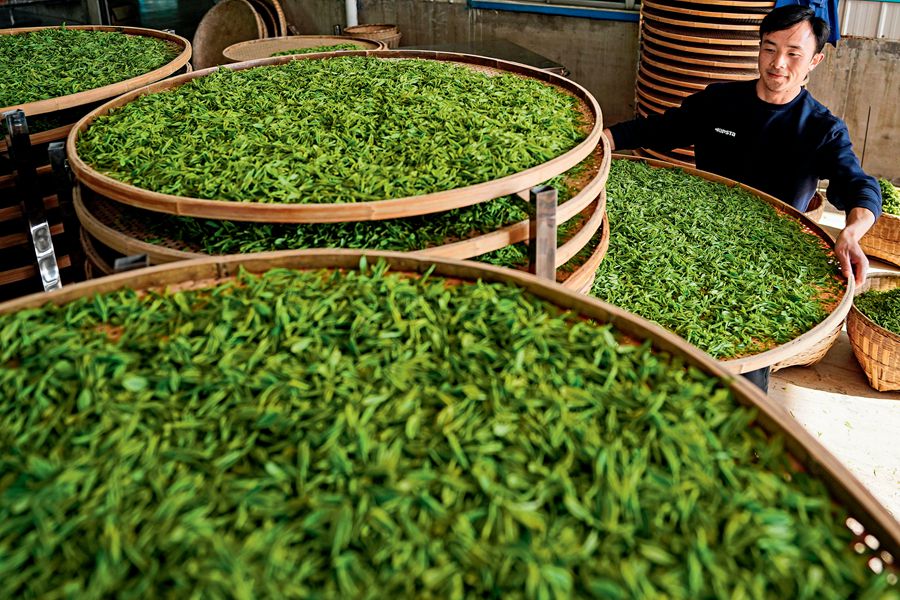 At the tea processing plant, a worker is dealing with freshly-picked tea leaves.
The reason for the restriction dates back to the middle 1960s when 95 percent of local people in the village were relocated to higher mountainous areas as a reservoir was built and Blossom Lake became the source of drinking water for urbanites in Guiyang, but farmers were left with reduced arable land trapping them in poverty.
"We prohibited rural residents from exploiting the lake resources in a bid to better conserve the environment," said town chief Li Bin. "When the supporting facilities for tourism are still poor, the deluge of tourists will overload the local environment. It would be difficult to restore the environment once it is destroyed."
In the past few years, the local government has channeled substantial resources and capital into improving local infrastructure. The provincial government has invested over US $100 billion in infrastructure construction over the past five years. In 2017, the province received 744 million tourists, bringing US $110 billion in revenue to the local economy. This helped lift more than 500,000 people out of poverty.
Residents living beside the Baihuahu Reservoir have ventured into agro-tourism, with more than 90 percent of the domestic sewage being treated. "We are not allowed to start a hospitality business before the sewage treatment services are available," said Wang Ruifen, who runs a lodging business at her farmhouse beside Baihuahu Lake. "I could make RMB 60,000 to 70,000 (US $8,670 to US $10,115) during peak seasons," she said. Local people like Wang are getting affluent as agro-tourism booms.
Developing Tea Plantations
However, rural people living far from Baihuahu Lake in the town have to find other avenues to prosperity.
With ideal climate and soil for growing tea, many villages in the town have also maintained this tradition. Under the aegis of local government, farmers in the town established a cooperative and reached an agreement with Guizhou Zhejiang Merchants Group on jointly developing environmentally friendly tea plantations in July 2017. The tea growing process is free from chemical pesticides, using only natural fertilizers fermented from livestock manure. Pests on the tea leaves are removed by manual laborers.
Farmers collect their salaries from the local tea plantation cooperative in Baihuahu Town.
Local farmers buy into the cooperative with their land, and receive proportionate dividends. The Guizhou Zhejiang Merchants Group takes on the task of exploring market opportunities, whereas the cooperative is in charge of tea plantations.
In the first three years, the plantations generated no profits. The cooperative subsidized farmers RMB 600 (US $89) per mu (1 mu=666.67 square meters) of land annually as they lost the source for income for subsistence when the farmland had been pooled in the cooperative. Every 10 mu of land created one job for local farmers, who would be responsible for sprinkling, weeding, and clearing pests on the plantation. To date, the tea plantations cover an area of 4,500 mu in five of the villages.
Chen Qiong is a forty-something farmer in Wenshui Village, Baihuahu Town. Her family pooled 35-mu land toward the cooperative, bringing a net income of RMB 21,000 (US $3,120) every year. Two members from Chen's family now work at the plantation, earning a monthly salary of RMB 4,000 (US $594) each. Before the cooperative, the family had to live by farming. "Crops we grew could barely feed the family. We were too poor to buy fertilizers and had to borrow money from relatives," Chen recalled.
Last October, the tea plantation began to generate stable revenue, and Chen's family ushered in improvements. "I hope the plantation will boom so that we can make more money and live a better life," said Chen.
Brain drain of young people has also been a serious problem in the remote southwest regions of China. However, tea plantations in Baihuahu Town offer tentative job opportunities for rural youth. "At first, workers at the plantations were mostly around the age of 45. Since this spring, people in their early 30s have outnumbered the seniors," said Tang Yao, general manager of the cooperative. She said the cooperative was planning a tea factory to produce green tea, black tea, and matcha beverage among others. "When it is completed, it is unnecessary for local people to leave children and the elderly behind and migrate to cities for jobs. They can simply get employed in their hometown," said Tang.
Since the tea plantations started construction, 8,725 jobs have been created. Local people received labor payments totaling RMB 822,500 (US $118,850).
Adapting to Local Conditions
To help residents to increase their income, the local government has established a company to develop the opportunities presented by natural spring found in Gula Village, Baihuahu Town. The new company will produce and sell drinking water and beverages. "We will give full play to local resources and adjust measures to local conditions when supporting farmers in fostering businesses," said Li Bin.
To this end, the township government earmarked RMB 3.2 million (US $462,394) for poverty alleviation through developing mountain spring businesses. The project covered 405 poor people in 208 low-income households, some of which have been included in the targeted poverty reduction program. Besides, poor households receive a minimum dividend of RMB 2,000 (US $289) from the company every January.
"The company gives priority to the employment of poor people. Half of its some 20 workers are from low-income households," said Chen Can, sales manager of the drinking water producer. "They are not only employees, but also shareholders as they can buy into the company with the special government subsidies for poor households."
Li Afu has worked in the company for over a year and earns over RMB 2,000 every month. "Finally, I have paid off my debts of more than RMB 10,000 (US $1,445). Life is getting better and better," he said.